'Tis the sea-sun to be jolly! Did you know Scout Elves celebrate Christmas all year long? They have prepared four Christmas in July ideas that are sure to get you in the spirit even during the warmer months. Second only to the North Pole, Scout Elves enjoy the sunny weather at the beach, cool sweet treats and making a splash in the "pool"!
North "Pool" Party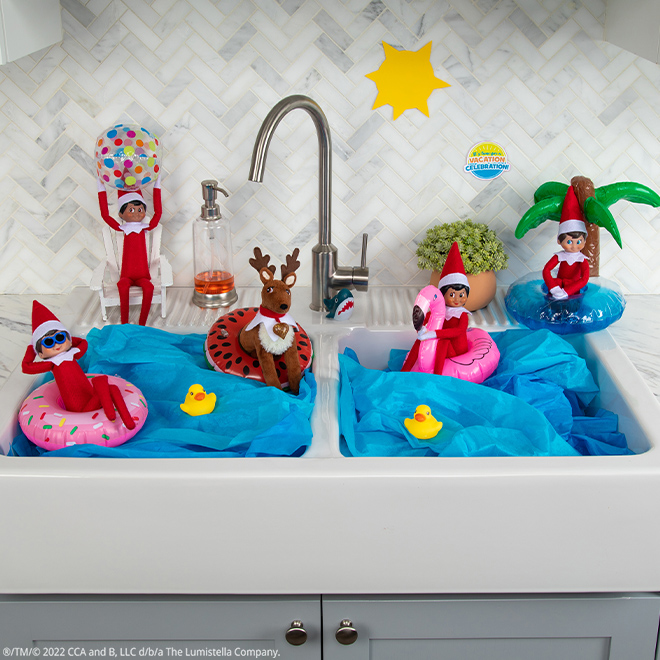 Are you ready to make a splash? Scout Elves are! Let's have a North "Pool" party! 
Materials:
Color printer
Card stock/paper
Scissors
Bathroom or kitchen sink
Blue tissue paper
Elf-sized pool floats, beach balls, and beach accessories
Instructions:
Your Scout Elf will fill the "pool" with blue tissue paper to look like water.
Then they will set up their pool floats and beach accessories.
Finally, they will get ready to catch some rays and enjoy a North "Pool" party!
For general and specific warnings please click HERE
---
Summer Celebration Decorations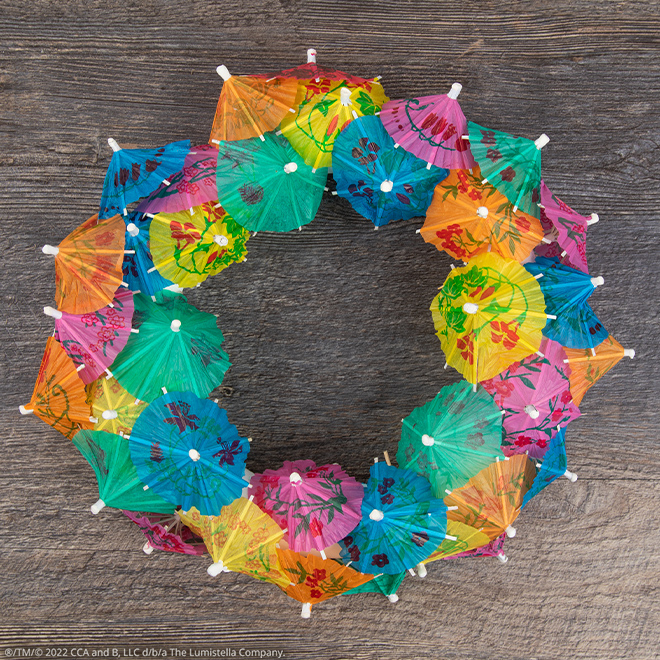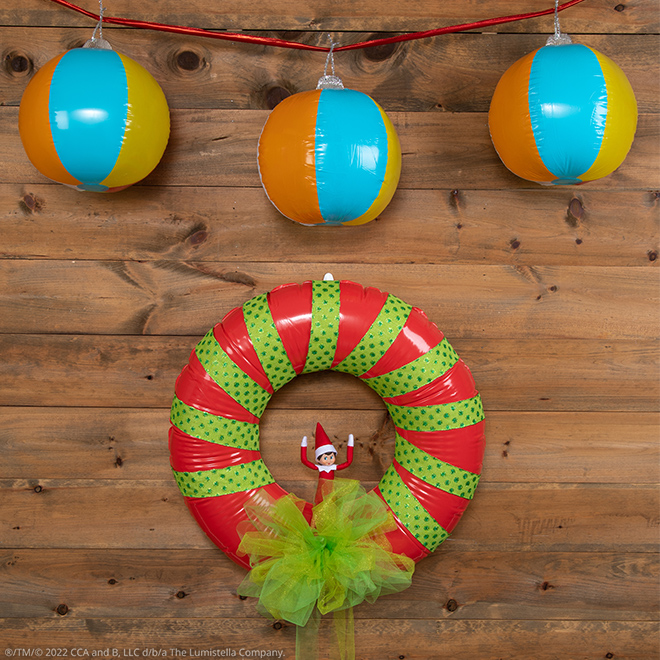 Deck the halls with these elftastic Christmas in July decorations!
Materials:
Inflatable pool ring
Decorative ribbon
Floral foam ring
Drink umbrellas
Beach balls
Metallic cupcake liners
Pipe cleaners
Adhesive
Scissors
Optional: large gift-wrapping bow
Instructions:
The Scout Elf will get started by inflating the pool ring and adhering decorative ribbon all the way around it to look like a Christmas wreath. They'll finish it off by attaching a pre-made bow or one made from the same ribbon.
Then, your Scout Elf will adhere metallic cupcake liners strung with pipe cleaners to the top of inflated beach balls to look like Christmas ornaments!
After that, they will string the beach balls together along the same decorative ribbon used for the pool ring to make an elftastic Christmas-themed summer garland.
For their last décor craft, the Scout Elf will poke drink umbrellas into a floral foam ring to make a festive summertime wreath!
For general and specific warnings please click HERE
---
 Happy Hula-days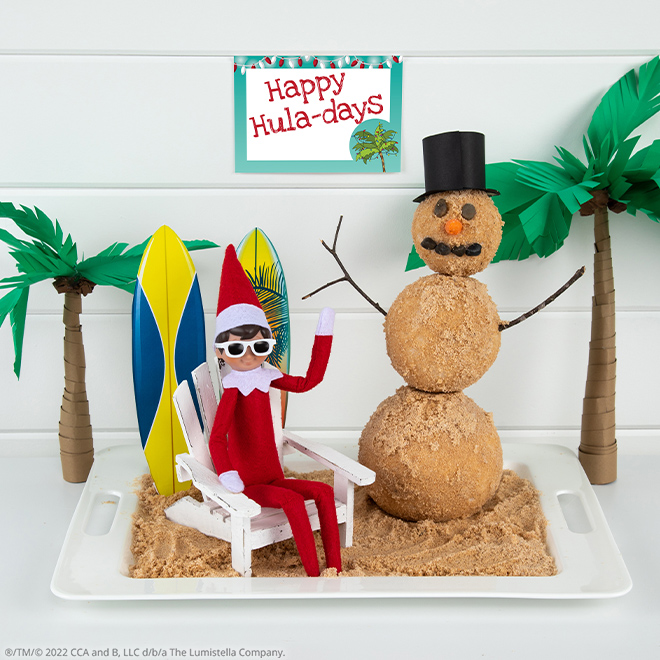 Who's ready to hang ten? Have a Happy Hula-days while chilling with your surfer Scout Elf!
Materials:
Color printer
Card stock/copy paper
Scissors
Three styrofoam balls in graduated sizes
Toothpicks
Play sand
Liquid glue
Decorations: twigs, pebbles, small top hat, one baby carrot
Instructions:
Your elf will print and prepare the printable surf boards and message.
Next, they will build a sandy snowman! To start, your elf will level the bottom of the largest styrofoam ball so it sits flat on the work surface.
Then they will coat each of the three styrofoam balls with glue and then sand. They'll use toothpicks between the coated styrofoam balls to balance one on top of the next. Lastly, they will place twigs as arms, pebbles as eyes and mouth, a baby carrot for a nose, and place a small top hat on its head.
Finally, the Scout Elf will chill out with their sand-man before getting ready to hit the waves!
For general and specific warnings please click HERE
---
Dog Days of Summer Treat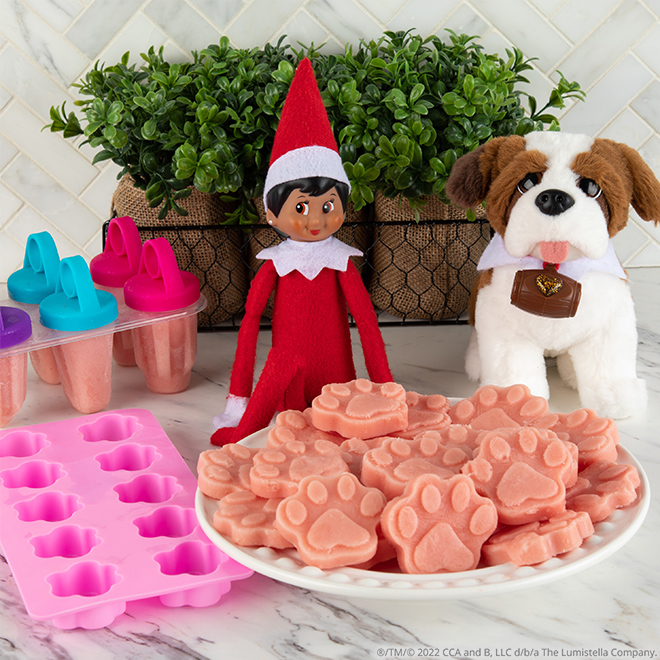 It's never a "ruff" life with these sweet treats! These all natural pupsicles are sweet enough for your pet AND for you to enjoy as well!
Materials:
Paw print freezer mold
2 teaspoons honey
2 cups seedless watermelon pieces
¾ cup plain Greek yogurt (NO artificial sweetener)
Blender
Instructions:
To begin, your Scout Elf will place all the ingredients into a blender and blend until everything is smooth and thoroughly combined.
Next, they will pour the mixture into silicone molds of paw prints that look just like the Elf Pets Saint Bernard and freeze for at least 3 hours. They could even pour this mixture into regular popsicle molds for kids as well!
Finally, your elf will transfer these frozen treats over to a zipper bag for storage so they can serve them up all summer long to your favorite pup!
For general and specific warnings please click HERE
---
Host the perfect summer picnic with this idea!
Before you or your elf get to work recreating any of these inspirational photos, be sure to read these safety warnings. Santa wants to make sure everyone stays safe!