You know her from Elf Pets: A Fox Cub's Christmas Tale, Santa's magical arctic fox, Noorah. Not only can she spark the northern lights to pause time, giving Santa a way to make his miraculous journey in one night each Christmas Eve, she can also make magical snow, allowing his sleigh to land anywhere, even rooftops. In fact, Santa's journey around the world wouldn't even be possible without Noorah's help!
Five fun facts about Noorah:
You might be surprised to learn Noorah has lived at the North Pole…even longer than Santa!
Noorah's favorite snow sculpture to create is a white, snowy owl with its wings spread wide.
Noorah is a three-time champion of the North Pole Snowball Target Challenge. Using her tail to sling snowballs, she hit the bullseye 73 out of 75 times!
Noorah has been friends with Santa almost as long as his Saint Bernard, Barry.
Noorah's favorite treat from Mrs. Claus' Sweet Shop is blueberry crumble!
You can discover more about the extraordinary world of Noorah in Extraordinary Noorah: Santa's Magical Arctic Fox, an illustrated storybook by Chanda A. Bell! Learn how this ordinary Arctic fox was flooded with the colorful light of a crashing comet from her eyes to the tip of her tail. With new, enchanting powers Noorah soon began sharing her gifts to help Santa protect the spirit of Christmas. Watch the magical book trailer below and pick up the book so kids can read the whole story again and again each Christmas!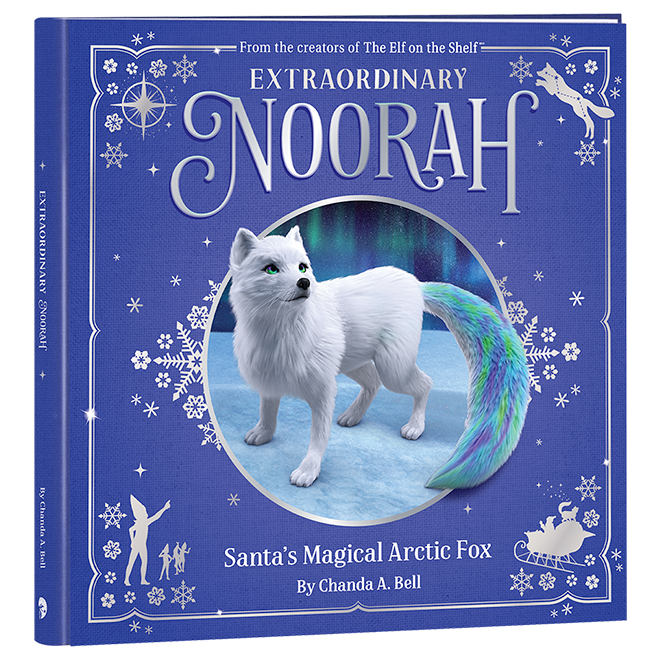 "A gorgeous volume for the Christmas season…Visually, this is just a treat…This could be one of the picks of the season!" – JL, UK reviewer
"Touching and magical! – SW, US reviewer
"I would DEFINITELY get this book and add it to my Elf on the Shelf collection of books." – HM, US reviewer