You're in luck! Just in time for St. Patrick's Day, Santa's Scout Elves are sharing a colorful treat that creates a fun project for your little leprechauns. Besides hunting for four-leaf clovers, taking a bite out of this "pot of gold" is the Scout Elves' favorite way to spend St. Paddy's Day at the North Pole. We know you and your family will be over the rainbow for this yummy treat!
You'll Need: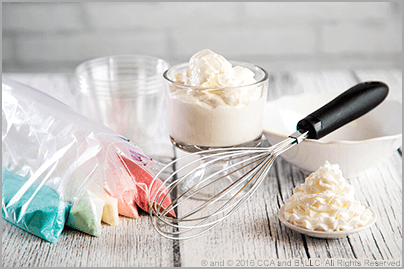 Gelatin in five colors (red, orange, yellow, green and blue)
4 cups Greek yogurt
Whipped cream
Clear 9 oz. plastic cups
Two bowls
Whisk
Instructions:
Makes approximately 8–12 servings
PUT

the first packet of gelatin you are going to use into its own bowl. To create a rainbow, you'll want to go in this order: blue, green, yellow, orange and red.

ADD

one cup of boiling water to the gelatin. Whisk the mixture and make sure the gelatin dissolves.

DIVIDE

the mixture in half, and wait for it to cool.
Once the gelatin is room temperature,

WHISK

1/3 cup Greek yogurt into one of the bowls of gelatin. Helpful hint: If you mix the yogurt in too soon, it may curdle when combined with gelatin that is still hot.

POUR

the gelatin and Greek yogurt mixture into the cups in thin layers until it is all gone. Helpful hint: Depending on the thickness of the layers, this recipe yields 8–12 servings.

PUT

the cups in the freezer for 15–20 minutes to set. Once the gelatin and yogurt mixture has set, pour the second layer of plain blue gelatin on top in a thin layer.

PUT

the cups in the freezer again for 15–20 minutes to set.
Once it is set,

REPEAT

the first seven steps with the other gelatin packets. Remember to go by the colors of the rainbow!

After completing the final layer,

TOP

with whipped cream, and enjoy!
See what other fun recipes you can make in Mrs. Claus' Sweet Treats!
This recipe may contain ingredients that can cause allergic reactions in certain individuals. Before using our recipes, always check the ingredient list and food labels of all ingredients and be sure to seek advice from a qualified physician if needed.