Looks like our frosty friend, the snowman, doesn't fare well in warm temperatures, but luckily, he makes one tasty treat! Get the Scout Elves' recipe for this sweet, silly melted snowman bark that looks just like a cool-weather companion who couldn't quite handle the heat. The Scout Elves think it's the perfect treat for celebrating Christmas in July!
You'll Need: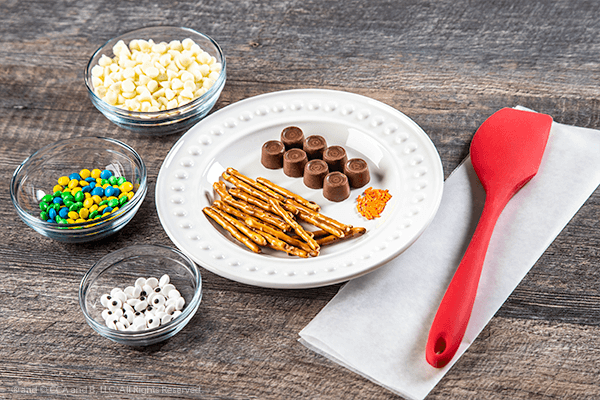 1 package white chocolate chips
Chocolate covered caramel candies
Candy eyes
Mini chocolate covered candies (any color)
Orange sprinkles
Pretzel sticks
Bowl
Wax paper
Baking sheet
Spatula
Butter knife (for adult use only)
Instructions:
Line a baking sheet with wax paper.
Melt white chocolate chips in a bowl according to package instructions.
Using a spatula, spread the melted chocolate onto the baking sheet.

Place snowman decorations onto the chocolate while warm to create the appearance of a melted snowman. Use chocolate covered caramel candies for hats, candy eyes, any color mini chocolate covered candies for buttons, orange sprinkles for noses and pretzel sticks for arms. Helpful hint: Work quickly, so the chocolate doesn't harden before you've placed all the toppings.

Allow the melted chocolate to harden into "bark" for at least 30 minutes by placing it in a fridge or freezer.

(This step requires adult supervision.) Using a butter knife, cut the bark into individual pieces. To keep the appearance of the entire snowman, try to cut pieces where all the toppings are together. However, don't worry if the bark breaks unevenly!
Enjoy this yummy treat with friends while celebrating a sweet holiday season!
Create more Christmas recipes together with your family!
This recipe may contain ingredients that can cause allergic reactions in certain individuals. Before using our recipes, always check the ingredient list and food labels of all ingredients and be sure to seek advice from a qualified physician if needed.