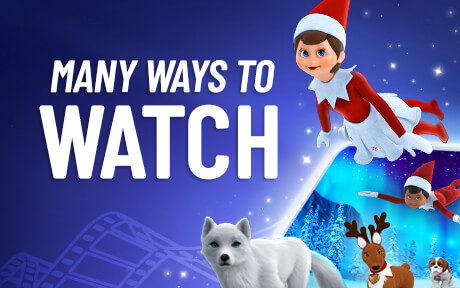 Entertainment
The North Pole is full of exciting places and characters for you to discover! Take an inside peek behind the scenes of Santa's magical headquarters with catchy songs, toe-tapping choreography and warm-hearted stories featuring The Big Man in Red, Mrs. Claus and all the Scout Elves and Elf Pets from the North Pole. Christmas Spirit will soar all year round!
More Ways to Watch Our Specials
North Pole Videos
For sing-alongs, story times and our very own COCOA WITH JOE Talk Show, check out The Elf on the Shelf YouTube channel!
Watch COCOA WITH JOE on YouTube
Scout Elf Joe is the North Pole's newest #ELFLUENCER on his talk show COCOA WITH JOE! Tune in to see famous guests, including Santa Claus!
---
Sing Along with the Scout Elves and Elf Pets!
Join the Scout Elves and Elf Pets as they sing, dance, and star in clips from your favorite Christmas animated specials!
Shop Santa's Store