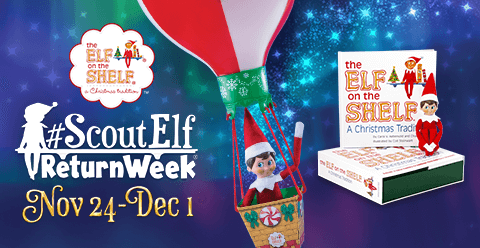 Scout Elf Return Week™
At the end of November, the first group of Santa's Scout Elves departs the North Pole to make their way to homes around the world for #ScoutElfReturnWeek! This weeklong celebration (Nov. 24–Dec. 1) is when most families welcome back their elves, or adopt a new North Pole helper. Check out the videos below to sing along with a North Pole music video and see elves as the travel back to their families' homes!
Sing Along with the Scout Elves' Music Video
The Scout Elves are coming back, and they have an exciting video to share with you in honor of Scout Elf Return Week™! Find out just what your elf does every night of the holiday season, and sing-along with this catchy song.
Meet Santa's Elite Scout Elf Training Team
The Scout Elf Training Team will take you inside the Scout Elves at Play® kit to show off 15 unique elf-sized tools and show how your Scout Elf may use them this year to surprise you during #ScoutElfReturnWeek!
View Scout Elf Tools
Take an Exclusive Look Inside Mrs. Claus' Design Studio
Get a sneak peek at Mrs. Claus' process for creating the coolest clothing for Scout Elves and Elf Pets® in this exclusive behind-the-scenes video. Which fashions do you want your North Pole friends will wear this season?
View Elf Clothing