Lose the whoopee cushion and forget the "dad jokes" because the Scout Elves have much easier—and impressive—ways to elicit laughs this April Fools' Day. With just a few everyday items, you'll be able to create pranks inspired by the Scout Elves' favorite humorous antics from Christmas seasons past. Just choose your favorites from the elves' list of simple April Fools' Day jokes, and you'll be hearing lots of laughs in no time.
Juice Joking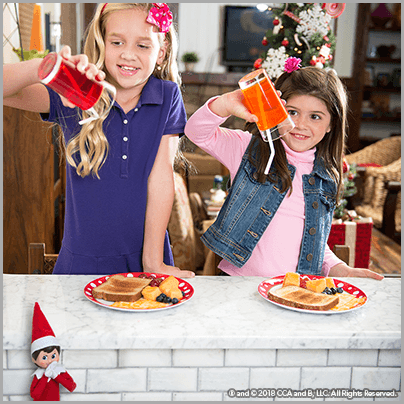 To recreate this juicy joke, swap out regular juice—in a cup or a pitcher—with gelatin. Simply follow the gelatin package instructions in the container of your choice, let it set and serve it up to unsuspecting juice seekers.
---
Lunchbox Wrap-Up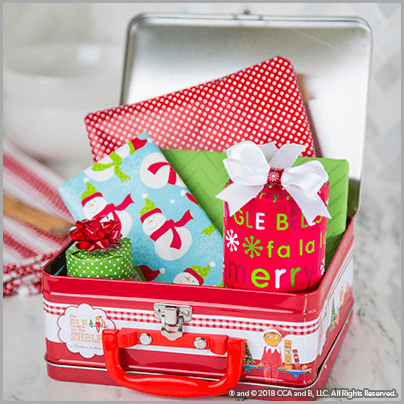 Pack a few laughs into your little one's lunch hour at school. Just take normal lunch items and wrap them individually for a funny surprise that's sure to feel—almost—like Christmas came early!
---
Watch What You Eat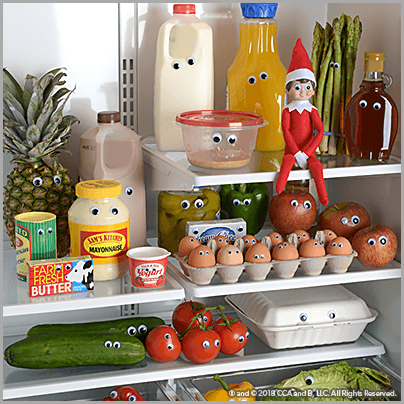 Somebody will be keeping a close eye on what your kids eat, but this time, it won't be you! Deck out as many containers, jugs and lone fruits and vegetables in your fridge as you can with googly eyes to give food an amusing appearance, just like this elf previously did at his family's home! Any kids opening the fridge won't believe their eyes at this unexpected sight of food come to life.
---
Clownin' Around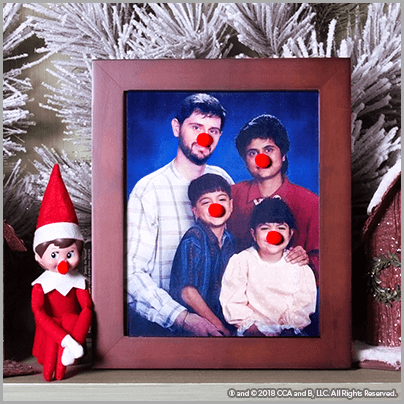 One of a Scout Elf's favorite in-season tricks is to use mini red pom-poms to turn your family picture into a funny photo, but this seasonal standby is also perfect for April Fools' Day. By attaching the noses with tape, you'll be able to easily peel them off when the jig is up.
---
Broccoli Pops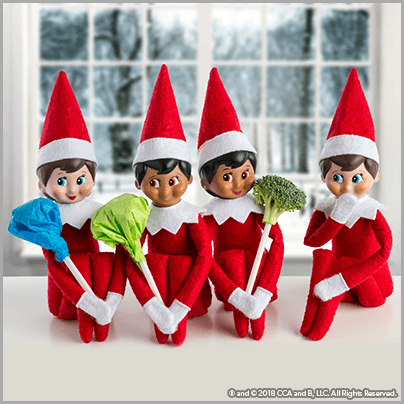 To make the April Fools' Day broccoli pops these elves are holding, wash and chop a head of broccoli into florets that are about the same size as a lollipop. Insert a craft stick or coffee stirrer into the stem of the broccoli floret, and wrap the top of the pop in a square of tissue paper (approximately five inches long by five inches wide). Then, tell the lucky recipient of this not-so-sweet surprise that you've made them a special treat!
More ideas for family fun are waiting for you in Scout Elf Craft Corner!
Please remember that when attempting the crafts included in this blog post, children should always be supervised by an adult. When using crafting supplies or products, always read manufacturer's instructions and warnings.