No limits exist to a Scout Elf's creativity—especially in the kitchen! While tinkering with ingredients in Mrs. Claus' Sweet Shop™, the Scout Elves discovered that there are endless ways to recreate one of their favorite cold weather treats: hot chocolate. Read on to see how the elves easily captured the flavors of hot cocoa in a moist mug cake that can be zapped to perfection in the microwave. Kids will just need a few ingredients and a microwave to whip up their own easy cocoa cup cake!
You'll Need:
3 tbsp. flour

3 tbsp. sugar

1 tbsp. cocoa powder

1 tbsp. hot cocoa mix

¼ tsp. baking powder

Pinch of salt

3 tbsp. milk

3 tbsp. vegetable oil

Splash of vanilla extract

3 tbsp. chocolate chips

Mini marshmallows

Whipped cream

12 oz. mug
Instructions:
In a microwave safe mug,

MIX

together all dry ingredients.

ADD

in each liquid ingredient, one by one, and whisk the mixture with a fork until the batter is smooth.

STIR

in chocolate chips.

MICROWAVE

for 90 seconds (until a tooth pick inserted in the cake comes out clean).

GARNISH

with marshmallows and whipped cream, and enjoy!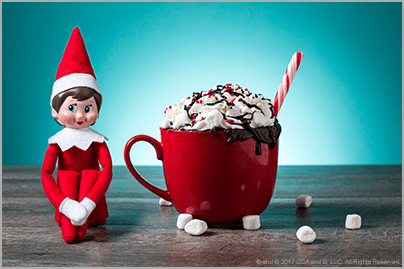 Looking for more ways to satisfy your sweet tooth? See more of Mrs. Claus' Sweet Treats.
This recipe may contain ingredients that can cause allergic reactions in certain individuals. Before using our recipes, always check the ingredient list and food labels of all ingredients and be sure to seek advice from a qualified physician if needed.