As much as Santa enjoys delighting kids on Christmas Eve by delivering presents, there's one other thing that makes him excited for his transcontinental flight: the cookies! This year, don't serve Santa more of the same—surprise him with some inventive cookie creations thanks to the Scout Elves' handy Christmas cookie guide. Each cookie is sure to be fun for your family to make and even more fun for Santa to eat!
Hot Cocoa Cookies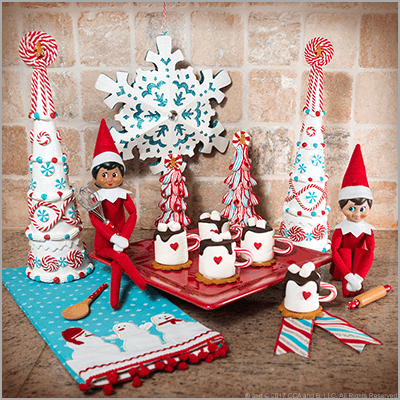 You'll Need:
Flat cookies
Icing
Large marshmallows
Baking chocolate
Mini candy canes
Knife
Heart candies (optional)
Instructions:
These chocolate-covered marshmallow treats combine two of the greatest and most popular Christmas sweets: cookies and hot cocoa! To make these cookies:
START

by laying out flat cookies of your choosing, and spread icing on them (this is what will hold the other ingredients in place).
Once the icing is spread,

PRESS

a large marshmallow firmly onto the cookie.
Next,

MELT

baking chocolate according to the package instructions. After letting it cool for a couple of minutes, carefully spoon the chocolate onto the top of each marshmallow.
While the chocolate is still warm,

STICK

mini marshmallows on top of the chocolate.
As a final finishing touch,

ADD

a heart candy to the front of each cookie!
---
Simple Snowball Cookies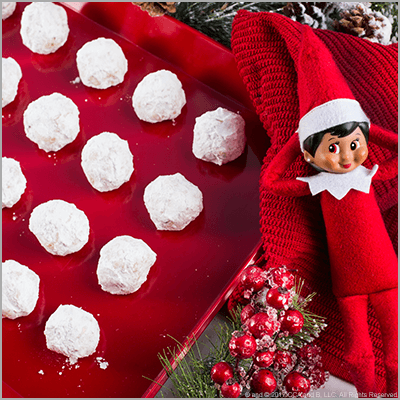 Shaped just like small spheres and covered in sugar as powdery as North Pole snow, these winter wonderland cookies are as fun to make as they are to eat!
---
Chocolate Chip Remix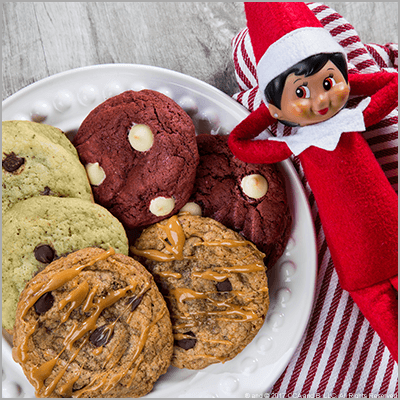 Find out the elves' three favorite ways to enjoy classic chocolate chip cookies.
---
Paw-fect Treats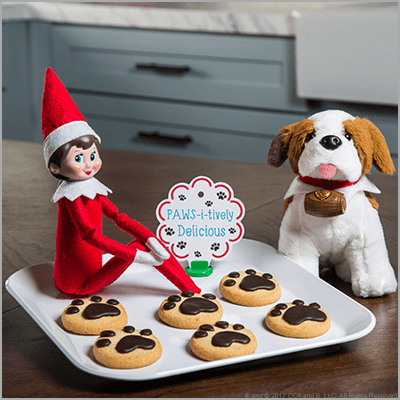 You'll Need:
Sugar cookies
Chocolate icing
Instructions:
With the help of the Elf Pets® Saint Bernard, the Scout Elves came up with a "paw-fect" idea for pup-themed cookies!
MAKE

a batch of plain sugar cookies using your favorite recipes, and use chocolate icing to draw paw prints on each cookie.

PUT

the cookies in the freezer for 20 minutes, and then, enjoy!
Want your very own Saint Bernard pet, like the one seen here? Adopt your own!
---
Sugar Cookie Creations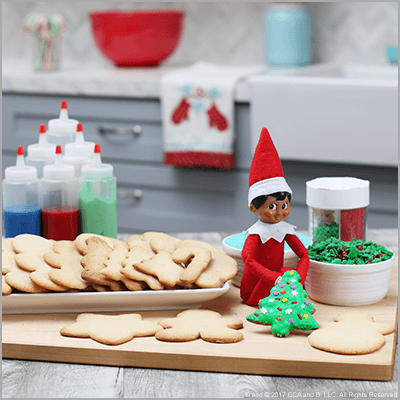 Host your own family cookie decorating night! Make sugar cookies shaped like candy canes, gingerbread men, stars, snowmen and more, and leave out everything necessary for each family member to design their own ideal iced creation. Santa will love your delicious designs, and your whole family will love this super sweet project.
Craving more Christmas treats? See what else is baking in Mrs. Claus' Sweet Treats!
These recipes may contain ingredients that can cause allergic reactions in certain individuals. Before using our recipes, always check the ingredient list and food labels of all ingredients and be sure to seek advice from a qualified physician if needed.