If your Scout Elf is keen on crafts and loves adding a touch of flair to everything they do, we've got the perfect elf ideas for them! For creative elves, these impressive projects won't take long to pull off, and they'll be sure to leave little ones wowed in the morning!
Click each picture for full instructions for your Scout Elf.
Bannister Boxcar Ride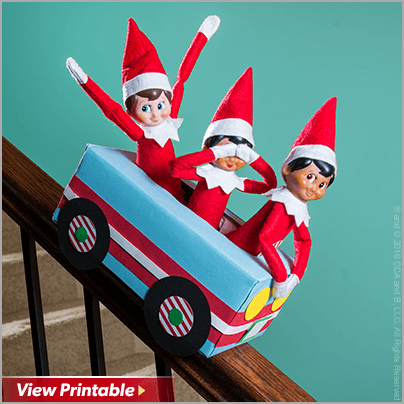 Materials:
Tissue box
Blue construction paper
Red construction paper
White construction paper
Black construction paper
Yellow construction paper
Green construction paper
Red marker
Glue
Tape
Scissors
Instructions:
Taking a trip down the bannister is easy when your Scout Elf makes this snazzy tissue boxcar! Your elf can either use the Banister Boxcar Ride printable, or create their own boxcar from scratch. To create one from scratch, your elf will wrap a tissue box in blue construction paper, using scissors to maintain the hole in the box opening.
Next, your elf will cut four strips out of red paper that are approximately 2 inches wide. Each strip of paper should fit along one side of the tissue box. Using a glue, your elf will attach the strips of paper along the corresponding sides of the tissue box.
In the middle of each red stripe, your elf will attach a white stripe that's approximately ½ inch wide.
To create the wheels, your elf will cut three different color circles to create each wheel: a black circle approximately 3 inches in diameter, a white circle approximately 1 ½ inches in diameter, and a green circle that is approximately ¾ inches in diameter.
After drawing red stripes across the white circle, your elf will use glue to attach the circles to one another, largest to smallest.
Your elf will use glue to attach two wheels to each of the longest sides of the box.
To create the lights, your Scout Elf will cut two circles out of yellow construction paper that are approximately 1 ½ inches in diameter and attach them to the front of the boxcar with glue.
As a finishing touch, your elf will create a license plate by gluing a piece of white construction paper that is 1 inch by 1 ½ inches to a piece of green construction paper that is 1 ½ inches by 2 ½ inches.
Your elf will use tape to attach his or her new mode of transportation to the bannister for a smooth ride!
Back to Top
Balloon Art Wreath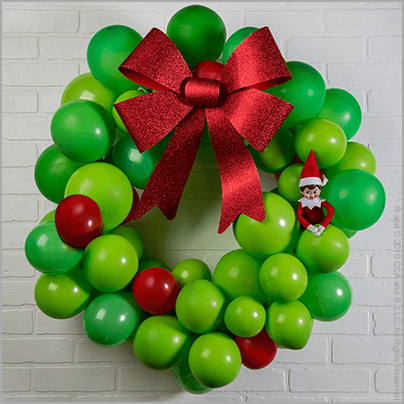 Materials:
Green balloons
Red balloons
Fishing line
Needle
Bow
Tape
Instructions:
To create a festive wreath that really pops, your Scout Elf will put a strand of fishing line, approximately 5 feet long, through the eye of a needle, and tie a knot at the end.
Your Scout Elf will blow up green and red balloons in a variety of sizes, and poke the needle through the knot at the end of each balloon, being sure to slide each balloon all the way down to the end of the fishing line.
When your elf is satisfied with how the strand looks, he or she will tie the fishing line into a circle to make a wreath.
With tape, your elf will secure a bow to the wreath as a finishing touch, and jump inside to hide!
Back to Top
Scout Elf Clubhouse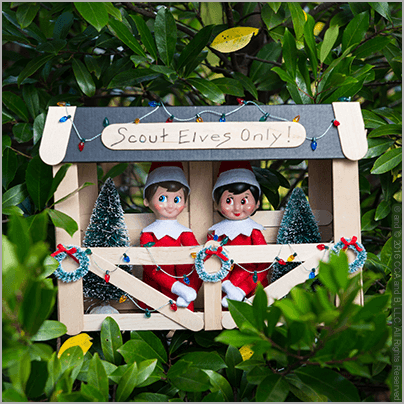 Materials:
Shoebox
Wooden craft sticks
Hot glue gun
Markers
Decorations (lights, signs, fake trees, etc.)
Instructions:
To create a fabulous fort, your Scout Elf will start by picking out a shoebox that they can use as the base of the treehouse. Your elf will set the box on one of its long sides and use the shoebox top to create a roof that hangs down slightly over the top of shoebox hole.
After your elf glues the roof onto the house, he or she will use wooden craft sticks to cover the box and create a railing in the front of the house for safety.
Next, it's time to decorate! Miniature lights, a sign or elf-sized blankets or pillows help your elf feel right at home.
Your Scout Elf will hoist this tiny hideout into a plant in your home, and hunker down to watch the day's activities!
Back to Top
Wrap the Tree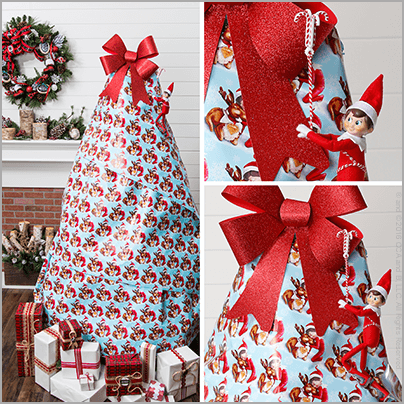 Materials:
Wrapping paper
Scissors
Tape
Bow
Scout Elves at Play®

Tools

Peppermint Grappling Hook
Candy Cane Cable
Christmas Climbing Boots

Instructions:
Your Scout Elf decided that wrapping presents wasn't enough! To dress the tree up just like a gift, your Scout Elf will cover the tree in wrapping paper by tilting the paper tube at a slight angle and rolling it around the tree, securing it in place with tape.
After strapping on the Christmas Climbing Boots, your elf will use the Peppermint Grappling Hook and Candy Cane Cable to grab onto the bow at the top of the tree and go for a carefree climb!
Back to Top
Reindeer Chocolate Milk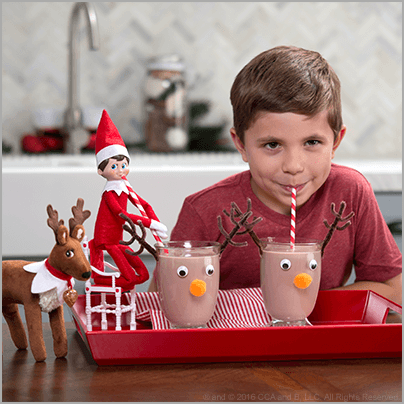 Materials:
Clear mugs
Chocolate milk
Paper straws
Orange pom-poms
Googly eyes
Brown pipe cleaners
Tape
Scout Elves at Play®

Tools

Instructions:
Your Scout Elf will craft a chocolatey treat that looks like the Elf Pets® Reindeer, the perfect touch for a morning meal or official North Pole Breakfast!! To start, your elf used brown pipe cleaners to create "antlers" by wrapping two smaller pieces of pipe cleaner (approximately 2 ½ inches long) around the top of one longer piece of pipe cleaner (approximately 5 inches long).
Using tape, your Scout Elf will attach the "antlers," as well as two googly eyes and an orange pom-pom "nose" to the clear mug.
After filling each clear mug with chocolate milk, your elf will stick a straw in each and kneel on the Cheery Chair to take a sip!
Back to Top
Looking for even more elf ideas? See what elves all over the world have been up to in the Ideas for Scout Elves gallery.
Before you or your elf get to work recreating any of these inspirational photos, be sure to read these safety warnings. Santa wants to make sure everyone stays safe!