Did you know there are a few different kinds of elves at the North Pole? Santa has a whole crew of helpers to make sure Christmas preparations run smoothly! Official, authentic The Elf on the Shelf® Scout Elf® friends wear solid red with white trim and visit your home each year at Christmastime. They're the ones who report to Santa, flying back and forth to your home each day spreading Christmas cheer! Read more below to make sure you have one of Santa's official Scout Elf® or Elf Mates® friends.
The One, The Only, The Elf on the Shelf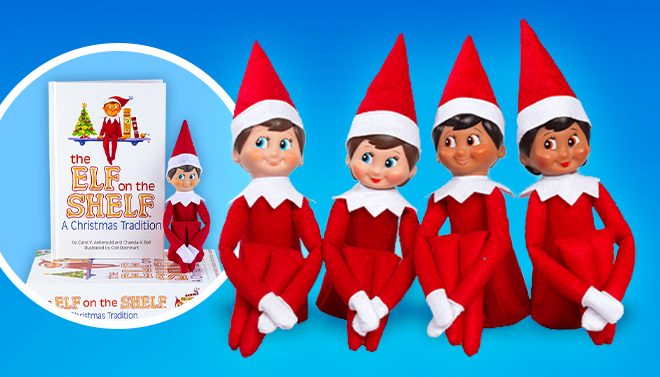 How do you know if you have an official Scout Elf pal from The Elf on the Shelf? Santa prepared this checklist to help you make sure:
Does your elf have a solid red uniform and hat with white trim?
Did your elf come in a signature keepsake box with an illustrated book?
Do your elf's brown or blue eyes peek to their right?
If you have the one, the only, The Elf on the Shelf, this elftastic friend of yours will be sure to tell Santa all about the good deeds you do each night when they fly back to the North Pole.
---
Elf Mates®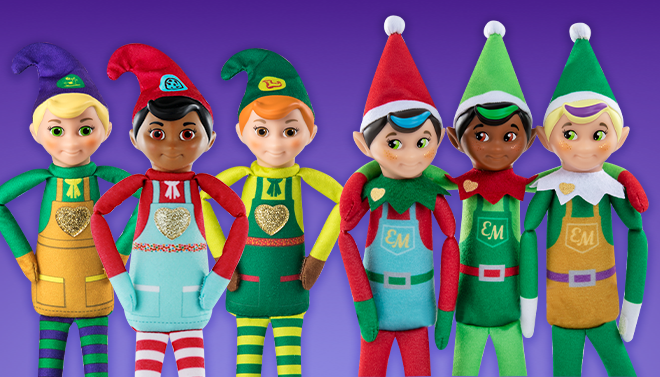 Also here to spread official Christmas cheer, The Elf Mates®–Santa's special friends from a mystical forest region at the North Pole. These forest elves, whose deeds are always rooted in kindness, have partnered with Santa for thousands of years as toy makers, cobblers, and chefs. Elf Mates® uniforms must be earned, however, and these North Pole elves are up for the challenge! Watch the video below to see the new recruits create and donate to earn their new uniforms and prove that they are Santa's true champions of kindness!  
---
To read more about the wonderful world of The Elf on the Shelf and other characters from the North Pole, check out this blog!