When Scout Elves and their Elf Pets® Reindeer put their heads together, there's no limit to the great ideas they can come up with! Check out the pictures below to see the adventures that are possible when elves and reindeer work together to impress their families!
Let's Take a Shelfie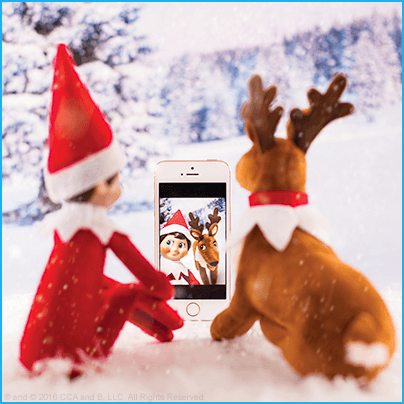 Materials:
Instructions:
While posing in front of festive decorations in your home, your Scout Elf and Elf Pets® Reindeer will capture the magic of the moment by taking a selfie—or a "shelfie" as they're known at the North Pole! After propping the camera up, your Scout Elf will take the pic!
Back to Top
Earmuff Envy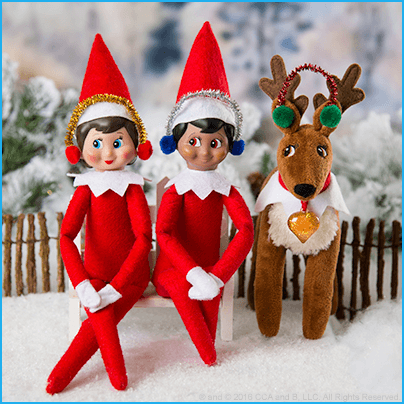 Materials:
Pom-poms

Pipe cleaners

Glue

Scissors
Instructions:
Your Scout Elf will create a set of festive-colored "ear-resistible" earmuffs by cutting off a piece of pipe cleaner that is about 5 inches long.

Next, your elf will put a small dot of glue on each end of the pipe cleaner and attach a mini pom-pom onto each side.

After applying pressure to ensure that the pom-poms adhere to the pipe cleaner, your elf will bend the pipe cleaner into a semi-circle and position the pom-poms over his or her ears to show off these toasty new arctic accessories!
Back to Top
North Pole Rescue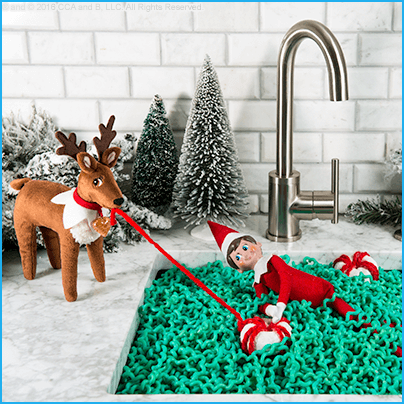 Materials:
Fusilli pasta (6 lbs.)

Vinegar (3 tbsp.)

Blue food coloring (60 drops)

A pot

Plastic storage bag

Plastic wrap

Bubble wrap

Small powdered donut

Red yarn

Scissors
Instructions:
Your elf will use a large pot to cook the noodles, cooking them a few minutes less than the packaging suggests. Your elf will combine the partially cooked noodles—2 pounds at a time—with the tbsp. of vinegar and 20 drops of blue food coloring to create some gnarly waves!

Your elf will allow the noodles to sit for 10–15 minutes to absorb all the blue dye. Then, your elf will drain the noodles completely. Once all the water has been drained, your Scout Elf will store them in a large plastic storage bag overnight or for several hours. Your elf will want the noodles to remain moist and pliable, but not wet. Your elf will repeat steps one and two until all 6 pounds of noodles have been cooked and dyed.

Since your elf is considerate and trying to stay on the nice list, he/she will be careful not to stain your sink, by lining it with plastic wrap. Then, your elf will fill the bottom of the sink with bubble wrap. Your elf will only need a couple of inches of noodles to create waves!

Using red yarn, your elf will make the powdered donut look like a life preserver by winding it around the donut and leaving a long piece of string, so they can be pulled ashore by your Elf Pets® Reindeer!
Back to Top
All Wrapped Up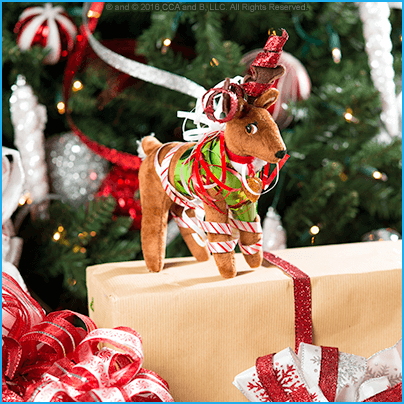 Materials:
Instructions:
Your Scout Elf will help your Elf Pets® Reindeer look ready for the season by wrapping him or her up in festive ribbons with fun prints! The more colors, the better!
Back to Top
Hat Twins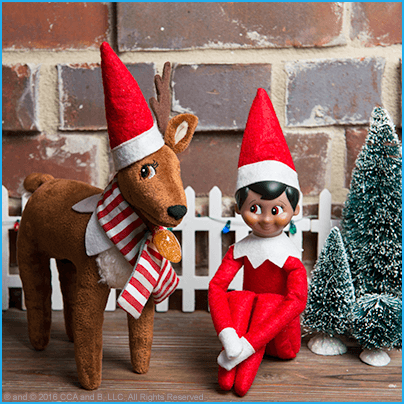 Materials:
Red felt

White felt

Marker

Ruler

Scissors

Fabric glue
Instructions:
Your elf will lay a piece of red felt flat, and cut out a piece that is 6 inches by 3 ½ inches.

Your elf will take the left side of the red felt and fold it in half along the longer, 6-inch side. Now, the felt should be open on the right side and folded on the left side. Keep the fabric folded in half.

Starting at the lower left-hand side of the fabric, your elf will cut along the bottom edge in a slightly curved line to the other side of the fabric, keeping as much material intact as possible. This will round out the whole bottom edge of the fabric.

Your elf will cut a straight diagonal line from the upper left hand corner to the lower right hand corner.

Your elf will unfold the felt to reveal a triangular shape with a slightly rounded bottom.

Starting at the top of the hat, your elf will use fabric glue to glue the felt together into a cone-shaped hat, and then, set it aside to dry.

After, your elf will use scissors to cut a piece of white felt that is 6 ½ inches long and ¾ of an inch tall. Your elf will wrap the white felt around the bottom of the red hat to create the hat's white trim, and glue it into place.

Once the hat is complete, your elf will put the felt elf hat over one of the reindeer's antlers, so they can rock some new headgear!
Back to Top
Adopt your own Elf Pets® Reindeer today! You can also see more ideas to inspire your elves if they are looking to specifically create fun with your Elf Pets®.
Before you or your elf get to work recreating any of these inspirational photos, be sure to read these safety warnings. Santa wants to make sure everyone stays safe!