To help your family make the most of cold winter days, the Scout Elves have created a list of 10 wonderful winter activities your entire family can enjoy together. From outdoor play to indoor games, there's something for everyone on the elves' list!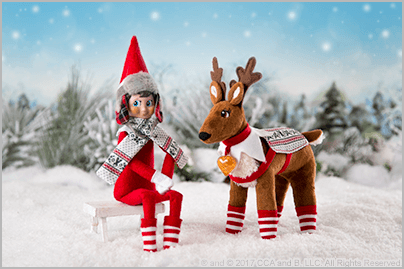 Play indoor sports.

Turn outdoor sports into indoor activities by swapping basketballs, volleyballs and soccer balls for balloons. Kids vs. adults!

Create cool winter wear.

Use googly eyes, pom-poms, beads and other craft supplies to give old scarves, gloves and hats a fashion upgrade for your next outdoor family play day.

Whip up some snow ice cream.

If you're lucky enough to have your own winter wonderland in the backyard, gather some snow in order to put a wintry twist on ice cream. Helpful hint: Find a snow ice cream recipe online that strikes every family member's fancy.

Make a gift.

Pick out a creative project you and your kids can take on that could be given as a birthday gift, holiday surprise for a teacher or décor for a grandparent's home. Get inspiration from the Scout Elves in Scout Elf Craft Corner.

Master a new skill.

Use your time indoors wisely by learning how to play checkers, using a yo-yo or whistling your favorite tune. Everyone can show off whatever new ability they've mastered with a family talent show.

Create an indoor museum.

Break out the craft supplies and create unique art pieces that can be hung on the wall for the entire family to admire. If you're feeling extra creative, make finger foods that can be enjoyed while browsing the "gallery."

Bake snowball cookies.

Bring the outdoors inside with these simple snowball cookies that are as fun to make as they are to eat!

Feed the birds.

Accommodate your feathered friends with a handmade bird feeder created with a pinecone, peanut butter and bird seed. Hang it just outside the window to catch a glimpse of the beautiful birds it attracts.

Hold a contest.

While at the ice skating rink, ski resort or in your own backyard, hold a friendly competition to see who can do the coolest spin on the ice, create the best snow angel or make a snowball the quickest.

Craft paper snowflakes.

All you need for this craft project is scissors and printer paper. Simplify even further by using this Scout Elf Snowflake template.
Check out delicious recipes you can whip up to enjoy while partaking in these fun activities in Mrs. Claus' Sweet Treats!
Please remember that when attempting the craft included in this post children should always be supervised by an adult. When using crafting supplies or products, always read manufacturer's instructions and warnings.