Make your Independence Day celebration pop with a fired-up version of chocolate covered pretzels! These white chocolate-dipped confections are coated in carbonated candy that pops in your mouth to give them their signature firecracker fizz, making them the perfect festive dish for decorating a picnic spread and entertaining little ones at the same time!
You'll Need: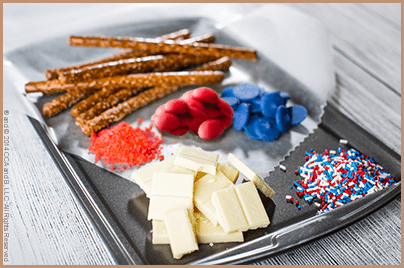 1 bag large pretzel sticks

3 bars white baking chocolate

8-10 packets carbonated popping candy

Red, white and blue sprinkles

Red and blue candy melts (optional)

Wax paper

Baking sheet
Instructions:
In a microwave-safe bowl,

MELT

the bars of white baking chocolate in the microwave, according to the package instructions. Helpful hint: Be sure to stop and stir every 30–45 seconds to avoid lumpy or burned chocolate!

DIP

one end of a pretzel stick in the melted white chocolate, coating as much of the stick as you'd like. Move onto the next step quickly before the chocolate dries! Helpful hint: You may want to create your pretzel sticks in batches of five or six at a time.

USE

the popping candy, sprinkles and candy melts to create fun designs on each pretzel stick. The melted chocolate will act as the "glue" that holds your décor in place.

LAY

the decorated pretzel sticks on a baking sheet lined with wax paper, and place them in the fridge to set for 15-30 minutes.

REPEAT

steps two through four until your supplies run out or you've made as many pretzel sticks as you'd like.

ENJOY

your festive firecracker treat with family and friends!
Looking for a fun Independence Day craft to make alongside this sweet treat? Create your own DIY Star Spangled Wreath!
This recipe may contain ingredients that can cause allergic reactions in certain individuals. Before using our recipes, always check the ingredient list and food labels of all ingredients and be sure to seek advice from a qualified physician if needed.