Any sweet treat can be made a little better with peppermints! Instead of reaching for a regular ice cream sandwich this summer, try this delicious and simple twist on the classic ice cream sandwich, a Scout Elf favorite!
You'll Need: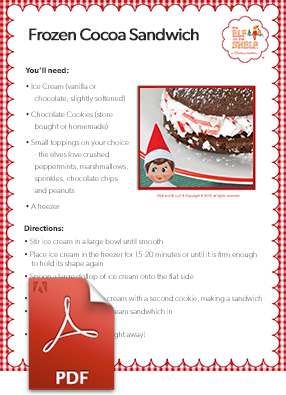 Vanilla or chocolate ice cream, slightly softened
Chocolate cookies
Small toppings of your choice (crushed peppermints, marshmallows, sprinkles, chocolate chips, peanuts)
Freezer
Instructions:
Stir ice cream in a large bowl until smooth.
Place ice cream in the freezer for 15-20 minutes or until firm enough to hold its shape again.
Spoon a large dollop of ice cream onto the flat side of one cookie.
Cover the top of the ice cream with a second cookie, making an ice cream sandwich.
Roll the edges of the ice cream sandwich in your favorite toppings. The Scout Elves love crushed peppermints!
Freeze until firm, or enjoy right away!
Create more refreshing recipes this summer!
This recipe may contain ingredients that can cause allergic reactions in certain individuals. Before using our recipes, always check the ingredient list and food labels of all ingredients and be sure to seek advice from a qualified physician if needed.