Between flying to the North Pole each night and keeping track of your family's adventures, Scout Elves are always on the go! It's no wonder that sometimes your elf could use ideas for quick and effortless hiding spots. Just leave out the materials for any of the elf ideas below, and watch your elf recreate the fun!
Give a Dog a Bone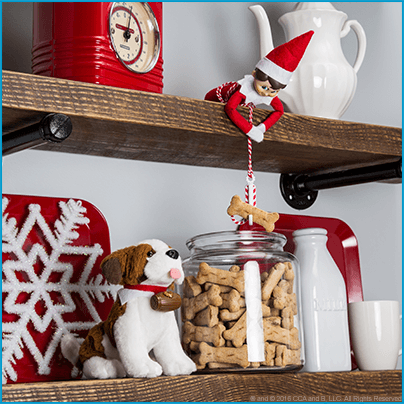 Your Scout Elf's Elf Pets® Saint Bernard has been such a good pup that your elf wanted to snag him a bone! With the help of the Peppermint Grappling Hook from Scout Elves at Play®, the treat-seeking mission will be a total success!
Nice-O-Meter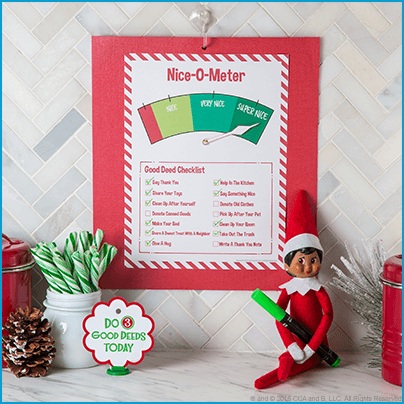 Tracking all of your family's good deeds during the holiday season is simple for your Scout Elf once they print their very own Nice-O-Meter. Let the acts of kindness begin!
Pajama Time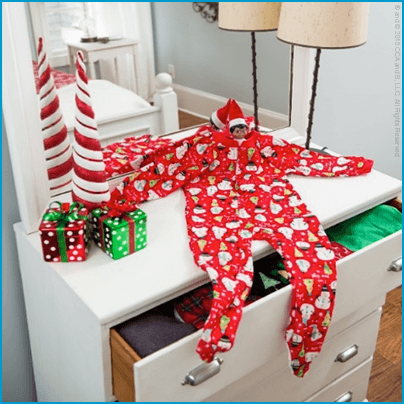 Scout Elves know one of the most important parts of the season is being cozy! Your elf can achieve optimum relaxation by taking a pair of your little one's pajamas and snuggling up inside for a heart-warming surprise!
Let Me Take a Selfie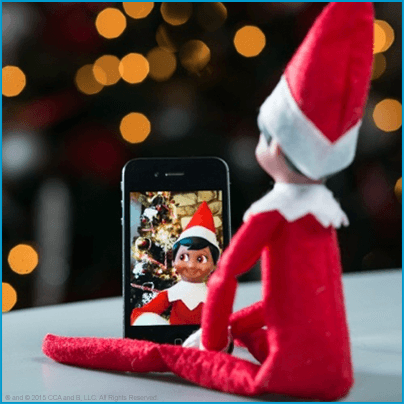 Sometimes, Scout Elves can't help but admire all your perfect Christmas décor, so much so, they have to document the festive scenery! By propping up a smartphone, it's easy for a Scout Elf to take a "shelfie" (as they're known at the North Pole)!
A Sprinkle of Inspiration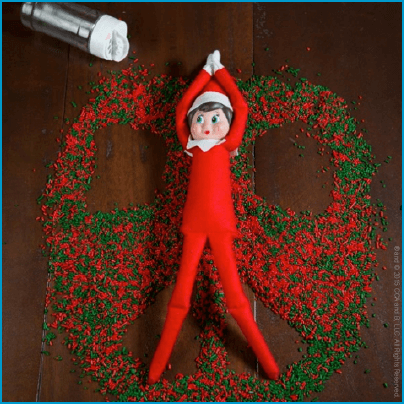 Scout Elves don't like to see the holiday baking supplies go to waste, so after you're all done decking out the desserts, your Scout Elf can create a snow—or should they say sprinkle—angel right on the kitchen counter.
Fun with Dominos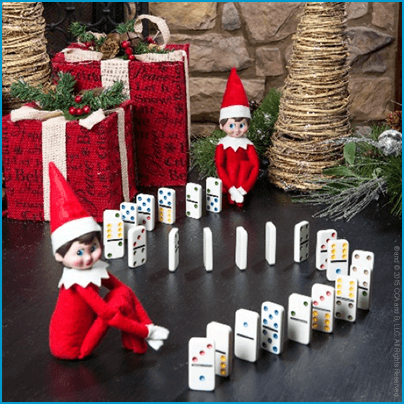 With a box of dominos, there's no limit to the twirly, twisty patterns Scout Elves can make! Creating a domino maze is a fun and easy way to start the day for Scout Elves and kids alike!
See other fun Scout Elf Ideas!
Before you or your elf get to work recreating any of these inspirational photos, be sure to read these safety warnings. Santa wants to make sure everyone stays safe!