Some of your Scout Elf's favorite hiding spots are ones that are crafty and quick! Ease and efficiency are both a part of these adorable ideas for elves who like to get in touch with their inner artist. All you need to do is leave out the supplies and watch the magic unfold!
Click each picture for full instructions for your Scout Elf.
Stuck in a Snow Globe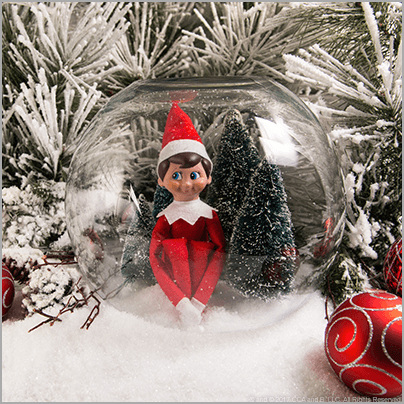 Materials:
Glass sphere (e.g. a fishbowl)
Unsweetened shredded coconut
Wintry decor
Instructions:
First, your Scout Elf will gather the necessary materials to create a Christmas scene. Then, with the items nearby, your elf will sit in one spot and arrange the Christmas décor. Little pinecones, shredded coconut and tiny presents all make an elf's personal snow globe look like the North Pole.
Then, your Scout Elf will turn the glass bowl upside down over his or her head and voilà—an elf-sized snow globe!
Back to Top
Family "Elfies"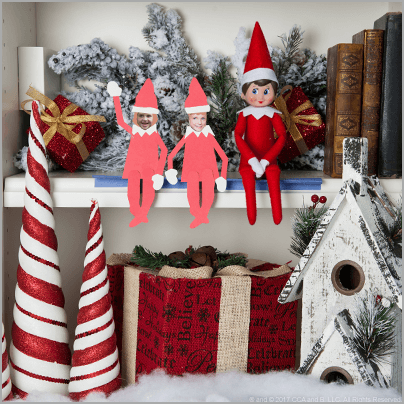 Materials:
Red and white construction paper
Glue
Scissors
Family headshots
Instructions:
First, your Scout Elf will need pictures of your family that are okay to be cut.
Next, your elf will use red construction paper to cut out a triangular hat and one-piece suit. White construction paper will be used to cut out a collar, trim for the hat and mittens—you and your Scout Elf will look nearly identical!
After your elf glues all of the pieces together, he or she will display them with pride! Enjoy the laughter that ensues the next morning when everyone realizes they have been dressed like a Scout Elf.
Back to Top
Scout Elf Oasis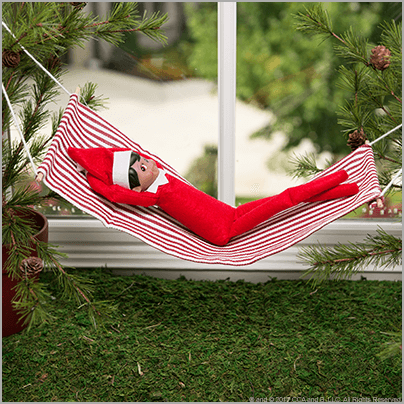 Materials:
Piece of fabric (18 inches long and 5.5 inches wide)
Hot glue gun
Chopstick, skewer or dowel
Scissors
Yarn (44 inches)
Instructions:
Using scissors, your elf will cut a piece of fabric into a rectangle that's about 5.5 inches wide and 18 inches long—the perfect length for lounging!
Next, your elf will create two pieces of wood—from a chopstick or skewer—that are the same width as the fabric, about 5.5 inches, and place them to the side.
Using scissors, your Scout Elf will cut two pieces of yarn that are each about 22 inches long.
Laying the fabric patterned side down, your elf will place one piece of yarn and one piece of wood at each end of the hammock, about half an inch from the ends of the fabric. The yarn should be centered.
Your elf will then fold the ends of the fabric over the piece of wood and yarn and secure it in place using a hot glue gun.
Once the glue dries, your elf is ready to hang the hammock between the two finest houseplants he or she can find!
Back to Top
Dripping with Deliciousness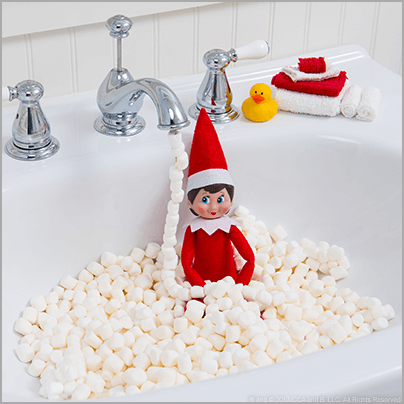 Materials:
Mini marshmallows
String
Needle
Scissors
Instructions:
Your Scout Elf will first cut a piece of string that is long enough to hang from your sink's faucet to the sink drain.
Next, your elf will attach the string to the needle and make a knot at the end of the string that will hold the marshmallows in place.
One-by-one, your Scout Elf will thread marshmallows onto the string using the needle.
Once the string is almost full, your elf will detach the string from the needle, making sure to leave at least 1 inch of string on the marshmallow strand, which he or she can use to attach the strand to the sink.
Your elf will then tie the string around the sink faucet's spout to make it appear as if the sink is putting out marshmallows instead of water.
To complete their delicious relaxation station, your elf will fill the sink with marshmallows, and sit down to take a dip!
Back to Top
Christmas Countdown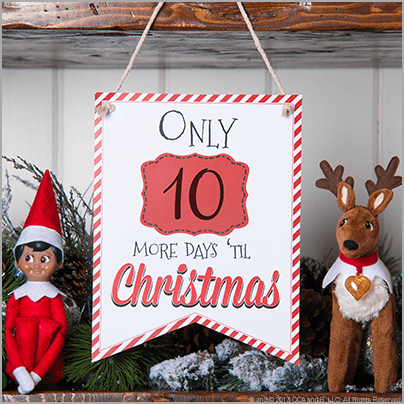 Materials:
Paper
Pen
Decorating supplies (stickers, paint, confetti, etc.)
String
Instructions:
Letting his or her creativity shine, your Scout Elf will sprinkle, smear, paint, paste, draw and write to craft a sign that lets you know just how many days are left until Santa's big day!
Using string, your Scout Elf will hang it where the whole family can keep track of the days.
Your little one can help your elf by keeping the calendar up-to-date!
Back to Top
Looking for even more elf ideas? See what elves all over the world have been up to in the Ideas for Scout Elves gallery.
Before you or your elf get to work recreating any of these inspirational photos, be sure to read these safety warnings. Santa wants to make sure everyone stays safe!