For inspiration to create innovative ideas, your Scout Elf needs to look no further than the items you already have in your home! With their active imaginations and enterprising spirit, the Scout Elves know just how to put everyday items to use when creating fun ideas.
Click each picture for full instructions for your Scout Elf.
TP Roll Up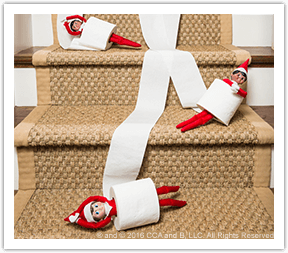 Instructions:
It looks like the Scout Elves have gotten into the toilet paper and made a fun new racing game! To glide down the stairs, your elf will:
Squeeze into a full roll of toilet paper.

Put his or her arms high in the air.

See how far he or she can roll down the stairs!
View More Elf Ideas
Seasonal Stilts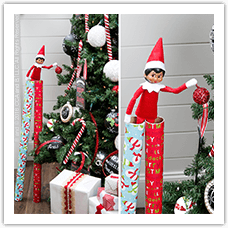 Materials:
Two wrapping paper tubes

Christmas tree

Ornament
Instructions:
Your Scout Elf wants to find the best spots for the ornaments on the Christmas tree, so he or she will strap on some wrapping paper stilts and start decking the tree! To create their helpful height boosters, your elf will:
Pick out two tubes of wrapping paper, and stand them upright with one of the tubes leaning slightly against the other for balance.

Place one leg inside of each tube, carefully balancing his or her weight.

Reach out to touch an ornament that is already hung or balanced on a tree branch.
View More Elf Ideas
Starry Night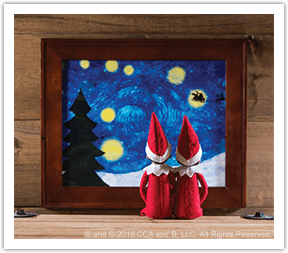 Materials:
Color printer

Paper

Scissors

Tape

Picture frame (optional)
Instructions:
Your Scout Elf will create their own wonderful work of art by:
Printing and cutting out this picture.

Taping the image to the wall, or framing it and hanging it.

Stepping back to appreciate the art!
View More Elf Ideas
A Little Can-Do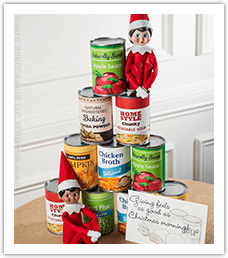 Instructions:
In the spirit of the holidays, your Scout Elf has decided to round up some canned goods to donate to charity by:
Making a small can pyramid.

Sitting atop their creation.

Leaving a note inspiring you to add more cans to the collection to help those in need this holiday season!
View More Elf Ideas
Scout Elf Snuggle Time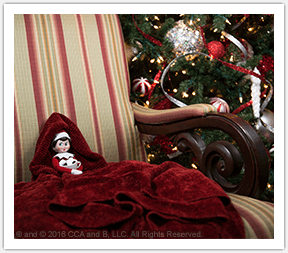 Materials:
Brown felt

Espresso mug

Blanket

Mini marshmallows
Instructions:
Brrr! Even though Scout Elves love the cold, they never miss a chance to cuddle up with some hot cocoa. To create a cozy spot to relax, your elf will:
Fill an espresso mug with "hot chocolate," a.k.a brown felt—they wouldn't want to spill!

Top off the mug of cocoa with mini marshmallows.

Cuddle into the warmest blanket he or she can find. Feel free to join in the relaxation!
View More Elf Ideas
Tic-Tac-Toe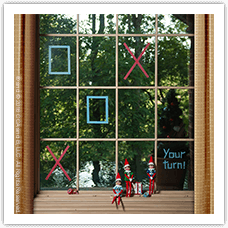 Instructions:
Scout Elves are always looking for a game to play! It looks like your elf has gotten a round of tic-tac-toe started for you by:
Attaching painter's tape to your window.

Leaving a note asking your family to work together to finish the game that has been started for you!
View More Elf Ideas
Sick Day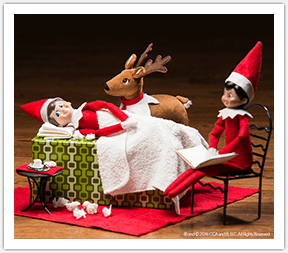 Materials:
Wash cloth

Tissues

Tissue box (rectangular)
Instructions:
Sometimes even Scout Elves need a little rest and relaxation! To recoup from his or her long flight from the North Pole, your Scout Elf will:
Take a tissue and fold it into an elf-sized pillow.

Get a wash cloth from the closet and use it as a blanket.

Climb into their tissue box bed for a quick nap before you wake up!
View More Elf Ideas
Candy Cane Climb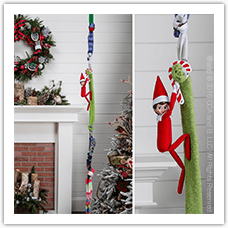 Materials:
Holiday Hook

Candy Cane Cable
Instructions:
Your Scout Elf is going all the way to the top with a handcrafted sock rope! To make the rope, your elf will:
Tie socks together, end-to-end, until the rope is long enough to reach from the ceiling to the floor.

Tie Candy Cane Cable to one side of the rope to be able to easily secure the rope to a stationary ceiling fan blade.

Make sure that one of the knots in the socks is large enough to throw his or her Holiday Hook around to traverse this impressive creation!
View More Elf Ideas
Want more time-saving ideas? Learn more about Scout Elves at Play®.
Before you or your elf get to work recreating any of these inspirational photos, be sure to read these safety warnings. Santa wants to make sure everyone stays safe!