Scout Elf Return Week™ marks the most common time when Scout Elves return to their families or are adopted and arrive to their families' homes for the very first time. To get ready for this week, check out this fun and easy craft little ones can create in order to welcome their elf home from the North Pole. This Scout Elf Landing Net will provide your elf with a soft and bouncy landing spot upon their arrival. Read on to find out how to recreate this craft using just a few items!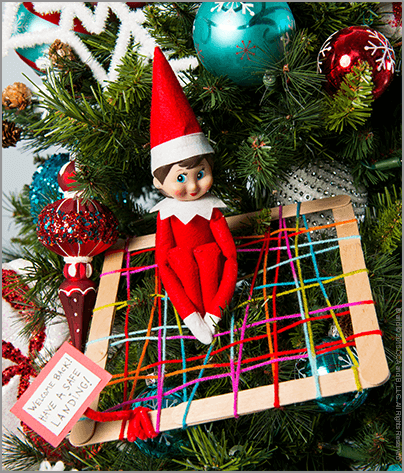 You'll Need:
Wooden craft sticks (8)

Glue

Yarn (about 12 feet)

Scissors
Instructions:
Glue together two wooden craft sticks, end to end, to create one longer stick. Repeat this step with the remaining sticks to create four longer sticks that are all the same length.

Make a square by gluing the ends of your four long sticks together. This will create a sturdy base for your landing net!

After the glue has dried, cut a piece of yarn, about 6 feet long. Tie one end of the yarn to a corner of your square. Wrap the yarn around the square base to create a tight zig-zag pattern. Once your yarn is wrapped all the way across the square, tie the end of the string to the square base.

Cut another piece of yarn—also 6 feet long—to weave in and out of the zig-zag pattern you just created, tying the ends to the square base as well.

Find the perfect spot for your landing net in your home. The elf above landed in her family's Christmas tree!

Attach a note to the landing net welcoming your elf back for the holiday season!
See more epic Scout Elf Return Week™ ideas!
Please remember that when attempting the craft included in this post children should always be supervised by an adult. When using crafting supplies or products, always read manufacturer's instructions and warnings.