Is your Scout Elf crunched for time? Is their commute to the North Pole really long, or do they have a lot of duties for Santa? Now, you can inspire them with these simple and easy last-minute elf ideas. Suitable for the busiest of elves, these elf ideas can be created in a flash!
A Fruity Ensemble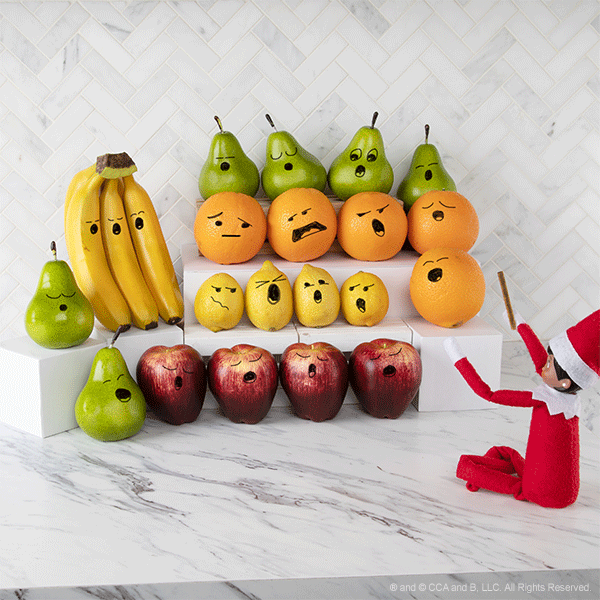 Orange you glad your elf had a great idea to strike up a fruit choir? Hopefully, the lemons don't produce any sour notes!
Materials:
Fruit
Small boxes
Black marker
Wooden skewer
Scissors
Instructions:
To direct their own orchestra, your elf will display a variety of fruits on small boxes on the kitchen counter.
Using a black marker, your elf will draw singing expressions on the fruits.
Finally, with a small piece of a wooden skewer in hand, your elf will sit and face the choir, ready to direct a performance that will make the crowd go bananas!
---
Cookie Decorating Challenge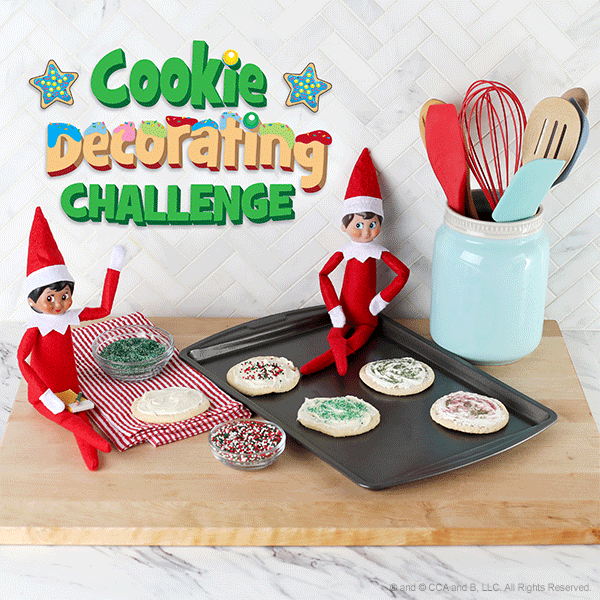 It's time for the sprinkles to swirl and the icing to fly in a fast-paced cookie decorating contest! Your elf will show up in your home with a freshly baked batch of cookies and a variety of icing, sprinkles and other edible decorations. Your elf will also leave a note challenging your family to a friendly competition: Who can decorate the most creative cookies in the shortest amount of time? Drumroll please…and the winner is…!
---
Drive-In Movie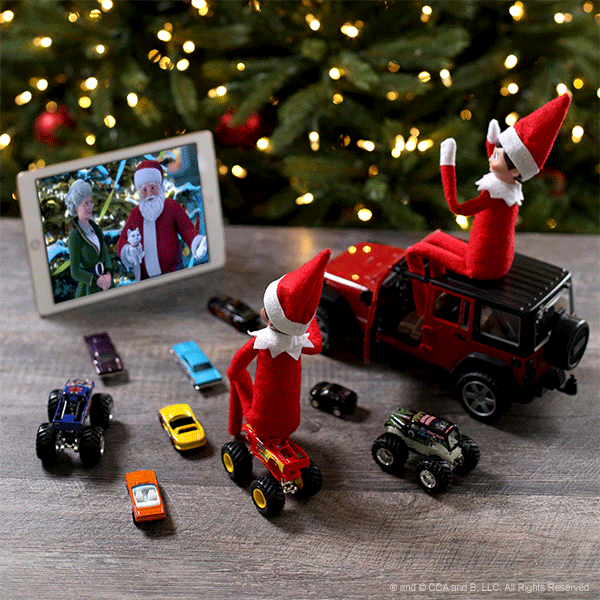 Dim the lights—it's movie night! Your elf will use toy cars to create their own drive-in theater, complete with a phone or tablet movie screen. They'll also leave a note encouraging your family to watch your favorite Christmas classics together, including the Scout Elves' new favorite animated special Elf Pets: A Fox Cub's Christmas Tale!
---
It's Toasty in Here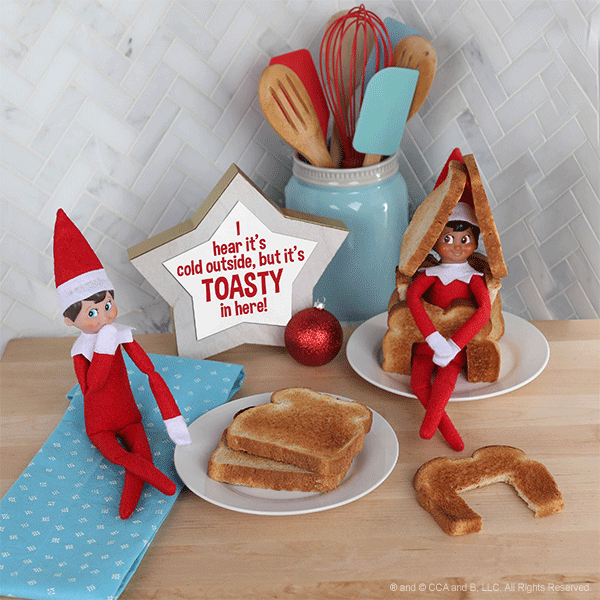 Bready or not, here I crumb! Your elf found the perfect toasty hiding spot inside of a bread house!
Materials:
Six pieces of bread
Toaster
Plate
Toothpicks
Knife
Instructions:
Your elf will toast six pieces of bread.
Then, your elf will sit on a plate and place four pieces of bread around them (front, back and each side). They will be sure to cut a small square out of the front piece to put their legs through and then attach each piece to one another using toothpicks.
They will build the roof of the house by using toothpicks to attach the last two pieces of bread above their head.
Finally, your elf will sit very still watching until you find them! They may leave a note that say, "I hear it's cold outside, but it's TOASTY in here!"
---
A Season for Giving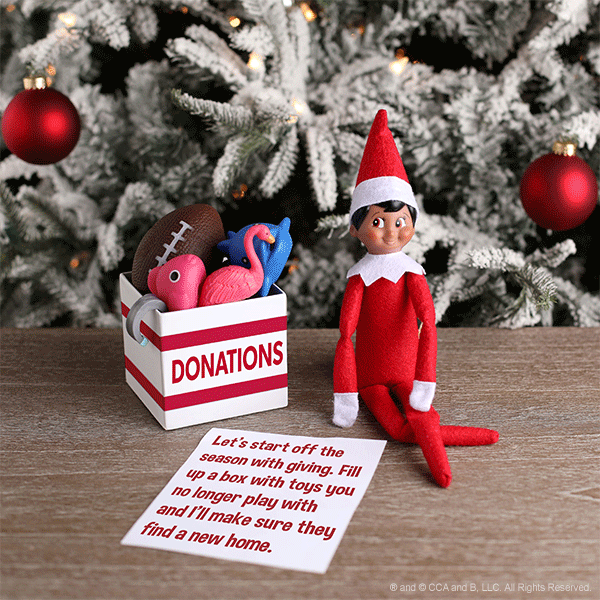 Christmas isn't about getting, it's about giving! To encourage your family to spread faith, hope and love this season, your Scout Elf will find a miniature box or container and fill it with elf-sized items they plan to donate. To inspire your family to give back, your elf will leave a note encouraging you to sort through your clothes and toys, too, to find lightly used items that need a new home. What will you donate this holiday season?
---
Hidden Treat Hunt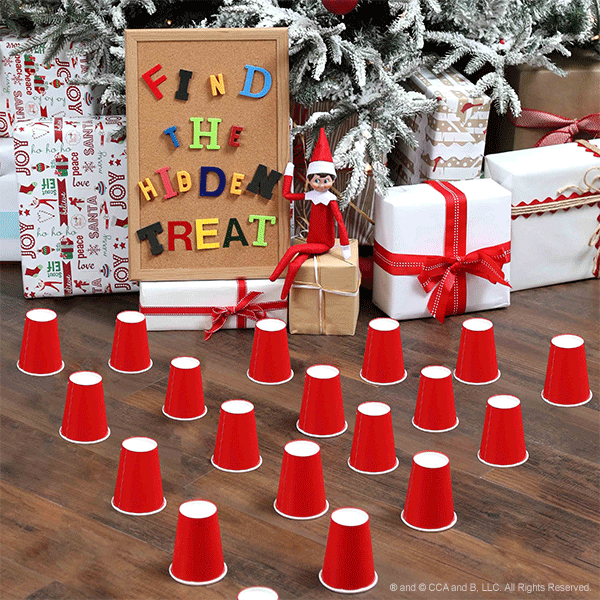 Ready…set…go! The race is on to find a special gift your elf hid for you in this terrific treat hunt!
Materials:
Paper or plastic cups
Individually wrapped candies or treats
Message board or pen and paper

Instructions:
Your elf will start by setting 10–20 cups upside down on the floor.
Under one cup, your elf will leave small candies or treats.
To encourage you to find their surprise, your elf will use a message board or pen and paper to leave a note that asks you to "Find the hidden treat."
Finally, your elf will sit by and watch you search for the sweets!
Find additional quick Elf on the Shelf ideas!
Before you or your elf get to work recreating any of these inspirational photos, be sure to read these safety warnings. Santa wants to make sure everyone stays safe!