Just like the Scout Elves, leprechauns love celebrations, especially March birthday parties. Lucky for the birthday girl or boy and their guests, a leprechaun visited your home and left a series of fun activities in his wake.
A Lucky Party
Follow the leprechaun's trail of tiny footprints to discover all he left behind for the celebration!
To Eat: First, his footprints will lead to the kitchen. Start by letting children decorate cupcakes left by the leprechaun himself. Give each child a cupcake—turned green with the help of food coloring—and then, let them decorate with green frosting and sprinkles.

To Do: Continue to follow the footprints until you find a note that says, "Catch me if you can!" Take your pint-sized visitor up on his offer by helping guests create their very own leprechaun traps. Give each child a shoe box and an array of art supplies for this craft that lets children try to outsmart the clever creatures! Kids can get creative and conceptualize their own traps, or you can lead them through creating a simple trap outlined below:

You'll Need:

One shoebox per child

Scissors

Tissue paper

Tape

Wooden craft sticks

Glue

Chocolate gold coins

Markers, crayons or other art supplies for decorating purposes

Instructions:
On top of the box, cut a square large enough for the leprechaun to fall through.
Tape tissue paper over the hole, creating a false floor the leprechaun will fall through when he comes looking for gold!
Build a small ladder using wooden craft sticks and glue, and then, lean it on the side of the box. The leprechaun can climb this ladder to get on top of the box, where the treasure will be!
Place chocolate gold coins on top of the box, opposite of the ladder and on the other side of the false floor. This will entice the leprechaun to climb onto the top of the box and across the false floor, hopefully trapping him!

Let kids get creative decorating their traps. Advertising "free gold" is a great way to catch the eye of any lingering leprechauns!
Party Favors: Visit your local party or dollar store to pick up goodie bags in all the colors of the rainbow and small St. Patrick's Day trinkets such as beads and chocolate gold coins. Placed the filled bags on a table in rainbow order for a colorful surprise at the end of the party!
Scout Elf Suggestions: If your little one invited their Scout Elf for a special birthday visit, he or she could make a grand appearance inside a pot of gold! On the morning of their birthday or birthday party, your child will awake to see their Scout Elf popping his or her head out from the treasure famously found at the end of the rainbow!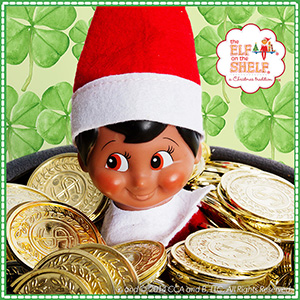 Get kid's birthday party ideas for other months of the year, too!