No matter how often they are recreated, some elf ideas never grow old. If your Scout Elf is looking to plan a tried and true surprise they are certain your family will love, have them check out the most popular elf ideas that have stood the test of time!
Polar Paper Snowball Fight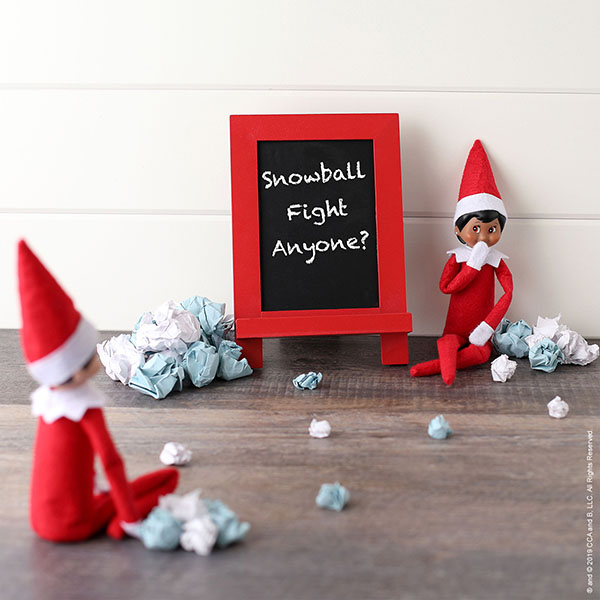 Incoming! Snowball fights happen daily at the North Pole, and your Scout Elf can't wait to recreate this popular pastime in your home. In lieu of snow, your elf will use paper to stage an alternate version of an authentic North Pole snowball fight.
Materials:
White and blue paper
Message board
Instructions:
Your elf will tear small pieces of white and blue paper and crunch them into tiny "snowballs."
After spreading the snowballs out, your elf will leave a note challenging you to join in the fun: "Snowball Fight Anyone?"
---
Mini Mealtime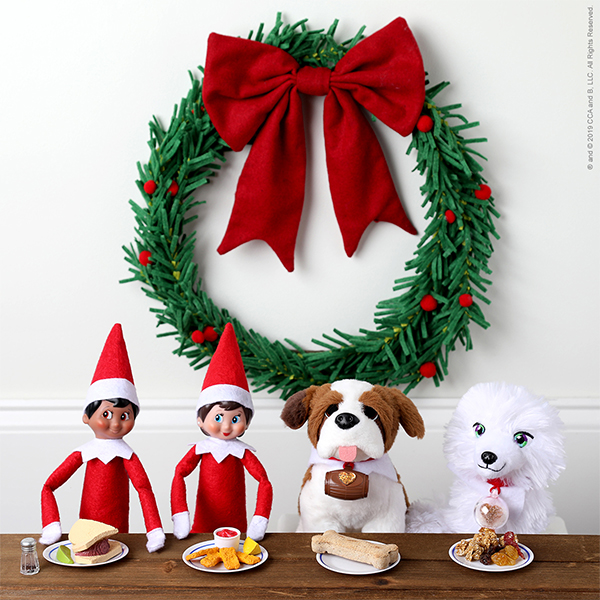 Just like you, Scout Elves and Elf Pets® reach for their favorite foods when their tummies start to rumble. The only difference? The food is miniature! You'll get a chance to see some of their favorite tiny treats when they set up a mini meal.
Materials:
Small plates
Plastic mini food or food cut into small pieces
Instructions:
First, your Scout Elf will place small plates at a table. Helpful hint for elves: Check local craft stores for mini accessories.
Then, they will serve plastic food (also available at most craft stores) or tiny bits of real food atop their plates.
Order up! Your Scout Elf and Elf Pets® will find a seat at the table and dig in!
---
Balloon Bubble Bath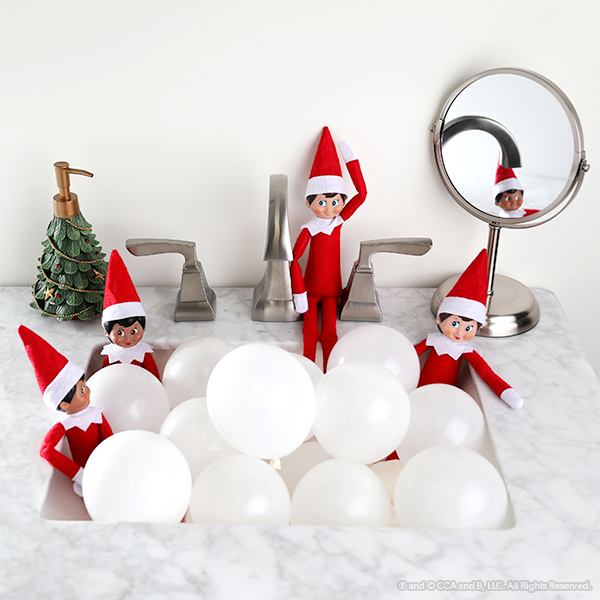 Rub-a-dub-dub, these Scout Elves took a dip in the tub! Your elf can make a real splash by relaxing in their very own balloon bubble bath.
Materials:
Instructions:
First, your elf will blow up small white balloons and place them in the sink.
Then, your elf will hop right in their balloon bubble bath and relax until you find them!
---
Gone Fishing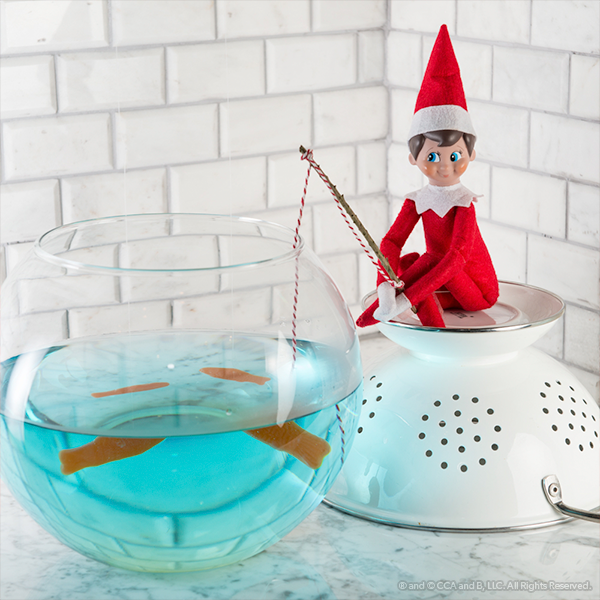 Your elf will cast a line and see what they can catch in this fun fishing-inspired elf idea. Will they be lucky enough to reel in a big fish?
Materials:
Small stick
Candy Cane Cable from Scout Elves at Play® or string
Fish bowl or other glass bowl
Water
Blue food coloring
Plastic fish
Instructions:
First, your elf will tie a piece of Candy Cane Cable or string around a small stick to create a fishing pole with fishing line.
Then, your elf will fill a fish bowl with water, turning it blue with food coloring.
After, your elf will place plastic fish in the water.
Finally, your elf will sit atop an upside down collander or any other ledge and cast their line in the water, waiting for a fish to bite!
---
Rainbow Ball Pit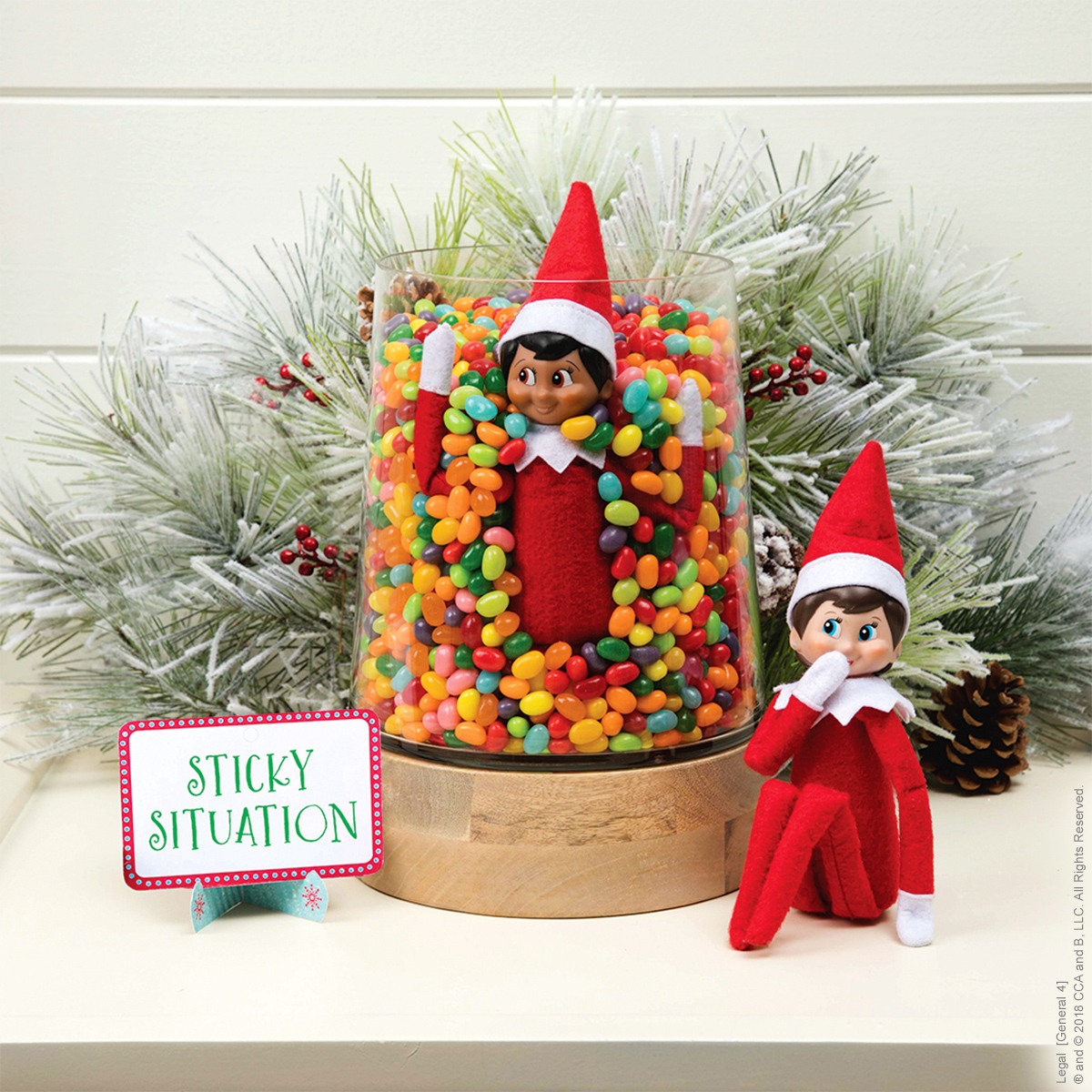 This elf escapade in a ball pit will bring your family loads of laughter!
Materials:
Clear glass container
Jelly beans, yarn pom-poms or gumballs
Marvelous Message Card and stand from Scout Elves at Play® Paper Crafts
Dry-erase marker
Instructions:
First, your elf will grab a glass container and fill it with jelly beans, yarn pom-poms or gumballs to create a ball pit.
Next, your elf will write a note on the Marvelous Message Card and prop it on the stand.
Finally, your elf will jump into the ball pit and strike a pose.
---
Marsh-"mellow!"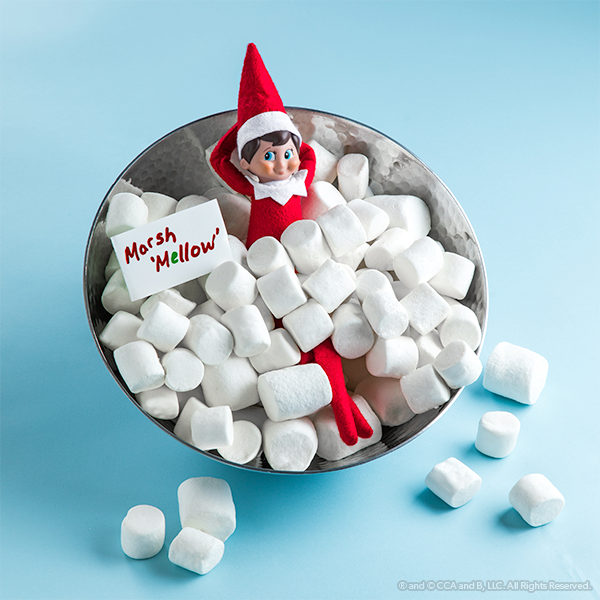 Your elf will take a break from the Christmas hustle and bustle and mellow out among a small bowl of marshmallows.
Materials:
Mini marshmallows
Bowl
Paper
Pen
Instructions:
First, your elf will gather mini marshmallows to set up a place to regain energy.
Next, your elf will place the marshmallows in a bowl to create the perfect spot to relax.
Finally, your elf will climb inside and write a note to let you know that they're "marsh-mellowing" out!
---
Prepare for Landing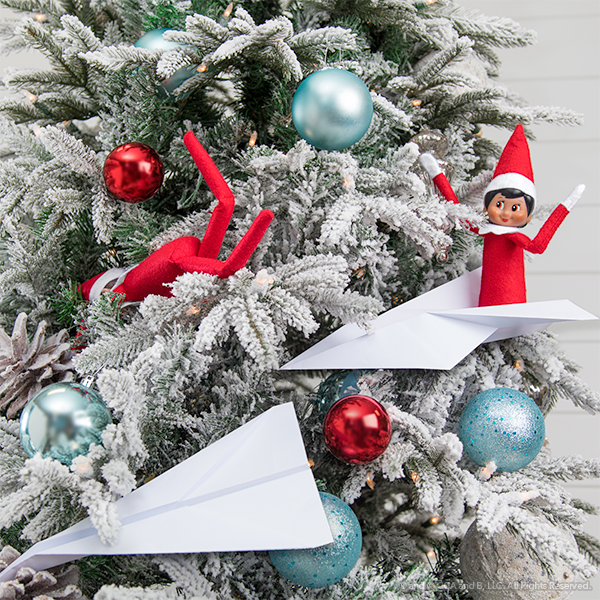 Your Scout Elf is no stranger to flying, but this time they relied on the help of a popular method: paper airplanes!
Materials:
Paper
Tape
Christmas tree
Instructions:
To stage an awesome airplane entrance, your Scout Elf will create an aircraft using the instructions on the paper plane printable.
After crafting their plane, your elf will sail straight into the Christmas tree and wait to be found!
---
Cinema Snooze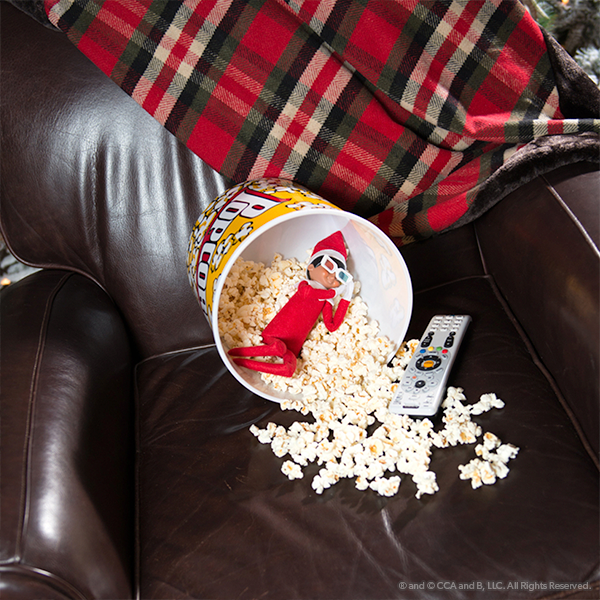 Your elf will post up for a movie night, but before the film, they will sneak in a quick nap!
Materials:
Popcorn Bucket
Popcorn
Scrapbook kit 3D glasses
Instructions:
First, your elf will put on tiny 3D glasses from a movie-themed scrapbooking kit (available at craft stores).
After, they will tip over a bucket of popcorn, spilling a little bit out onto a chair or table it is sitting on.
Finally, they will crawl inside and curl up for a quick cat nap!
---
Sweet Message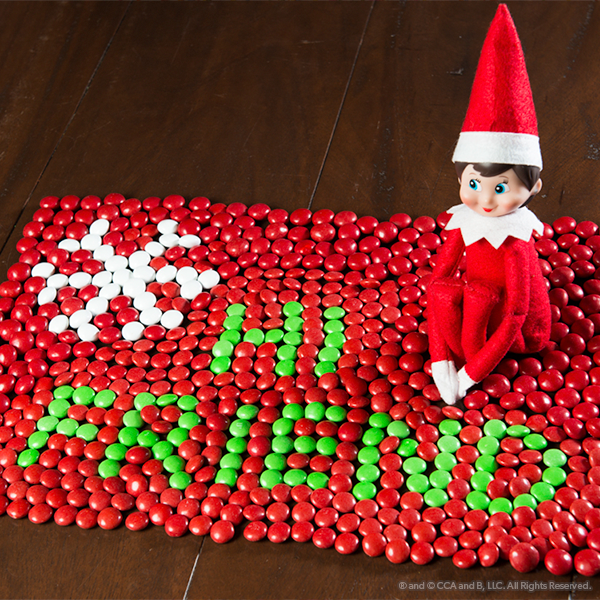 Your Scout Elf will surprise your family by sitting next to a sweet display they created with small chocolate covered candies. Little ones will be ecstatic to read the special message, "Hi friend," straight from their favorite seasonal visitor!
---
Sweet "Snow" Angel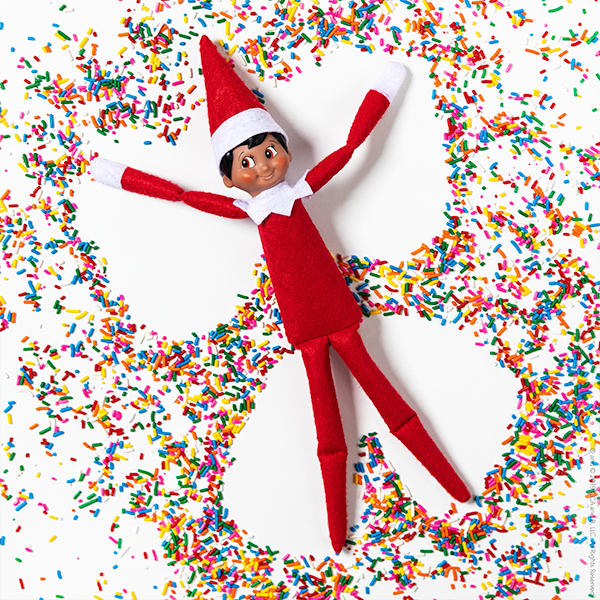 After searching the kitchen cabinets for a bottle of sprinkles, your Scout Elf will create a colorful display on the counter. They will spread out a pile of sprinkles, lay down and begin waving their arms and legs to create a funny "snow" angel.
Find more fun and exciting elf ideas to inspire your Scout Elf all season long!
Before you or your elf get to work recreating any of these inspirational photos, be sure to read these safety warnings. Santa wants to make sure everyone stays safe!