Welcome your Scout Elf home during Scout Elf Return Week™ with a grand entryway. Involve your little ones in the creation of this easy craft project that will glamorously guide your elf to his or her landing spot.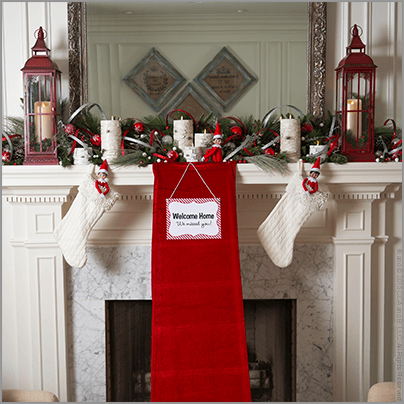 You'll Need:
Red fabric (about 10 yards)

Scissors

Sturdy tape

Paper

Markers
Instructions:
Cut the red fabric into a long walkway, making it whatever width and length you need to based on where you plan to place it in your home.

Using tape, secure one end of the fabric to a mantel, shelf or wherever else you'd like your red carpet to end—and your Scout Elf to land!

Let the rest of the fabric drape and run along the floor.

Make your Scout Elf's arrival complete with a hand-crafted note welcoming them home for the holiday season!
Get more epic Scout Elf Return Week™ ideas!
Please remember that when attempting the craft included in this post children should always be supervised by an adult. When using crafting supplies or products, always read manufacturer's instructions and warnings.