All year, Scout Elves eagerly count the days until they can visit your family for Christmas. We know your family can't wait for the holidays either—sometimes, so much so, your kids may wish to see their Scout Elf earlier or invite them for a special visit! If your little ones are dropping hints that they miss their elf, read on for everything you need to know about special visits from Scout Elves and how you can get your Elf on the Shelf to come back early.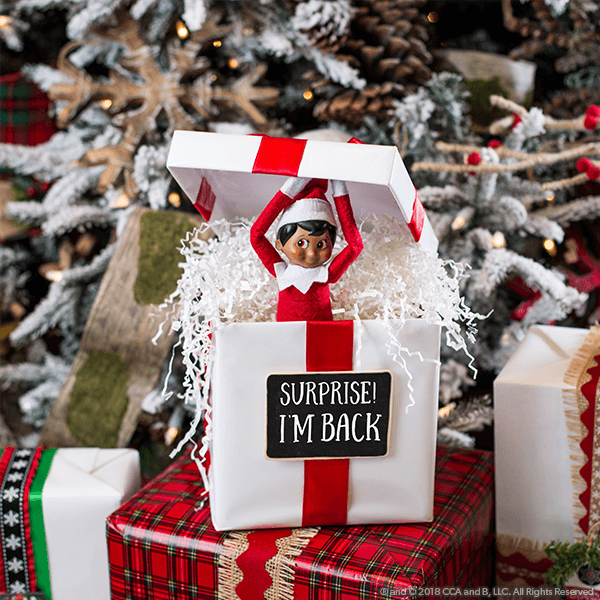 First, it's important to know that most Scout Elves return to their families' homes during Scout Elf Return Week™, which is a weeklong window at the end of November or early December when Santa sends his elves off to be his eyes and ears for the season. However, because all elves are different, some may return at different times if they're working on special projects for Santa. The most important thing to know is that only Santa can grant special permission to allow a Scout Elf to come back early, and there are several ways to improve the chances of Santa saying, "Yes!" to a special visit.
Tips for Getting Your Elf to Come Back Early
Write a note.

Because Santa is the only one who can grant elves special permission to come back early, the first and most important step to seeing your elf is to get in touch with the Big Man in Red himself. Write down why you want your elf to visit and what your elf will be doing during their visit. When it comes time to send the note to the North Pole, here are a couple of tried and true delivery methods.

Host a celebration.

Some of the top events Scout Elves are invited to are milestones such as birthdays, big holidays or other days that are special to your family. If you're celebrating something special, Santa always tries his very hardest to grant your Scout Elf permission to join you if they're not too busy at the North Pole!

Make fake snow.

When considering invitations, Santa always loves to know his special helpers will be right at home during their time away from the North Pole. You can set yourself up for success by mixing up some snow out of household items to make your elf feel like they're entering a winter wonderland!

Create a welcome zone.

To prove to Santa how much you truly want to see your elf, pull out all the stops for your elf's visit! You can do this by welcoming your elf with a homemade sign, decorating an area for your elf to sit during their visit or creating a pile of elf-sized clothing items your Scout Elf may choose to wear for the occasion. Not only will setting up a cozy welcome zone pass the time until your elf's arrival, it will show Santa how excited you are for your elf's potential visit!

Put candy out.

Santa and the Scout Elves can't resist sweets, and the more chocolates, cookies and pastries you have on hand, the more enticing your invitation may be! You'll definitely win points with Santa, who knows his elves can bring him sweets when they fly to the North Pole. Need baking project ideas? Check out the kid-friendly recipes available in Mrs. Claus' Sweet Treats.
Learn more about the Scout Elves via North Pole Knowledge!