Is your child's Scout Elf searching for a quick elf idea they can throw together in a jiff? These elf ideas are so simple, they'll leave your Scout Elf saying they're "easy peasy lemon squeezy". See below for all ideas and instructions.
Christmas Around the Clock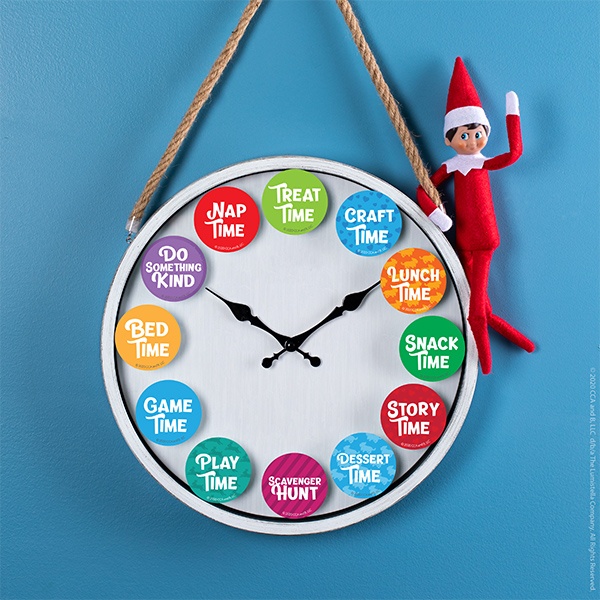 What time is it? Elf time! Your Scout Elf will transform a regular clock into a festive timepiece that replaces each hour with a fun activity. Time flies when you're having fun…especially with your Scout Elf!
Materials:
Color printer
Card stock/paper
Wall clock
Scissors
Tape
Instructions:
Your elf will print and cut out the printable, featuring different "times" or activities.
Then, they will tape the cutouts to a wall clock and wait for you to find them and discover the activities!
---
Chocolate Jumbling Tower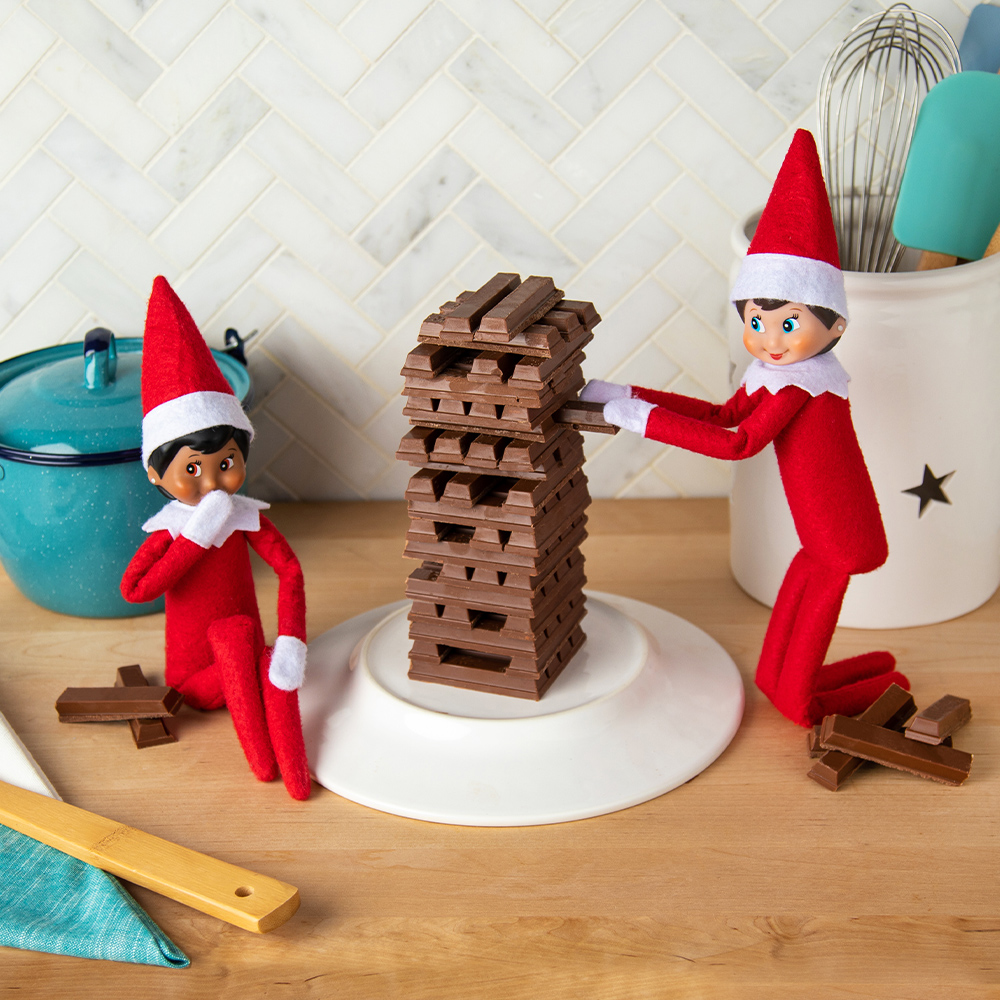 Your Scout Elf can turn any sweet treat into a game. Hopefully, you'll find their chocolate jumbling tower before they've eaten it!
Materials:
Chocolate wafer bars
Plate
Instructions:
Your Scout Elf will use chocolate wafer bars to build a jumbling tower on top of a plate. They'll be practicing their patience until you find them by:

Removing wafer bars carefully so they don't fall.
Trying not to eat the chocolate wafer bars. So tempting!
---
Tic-Tac-Bow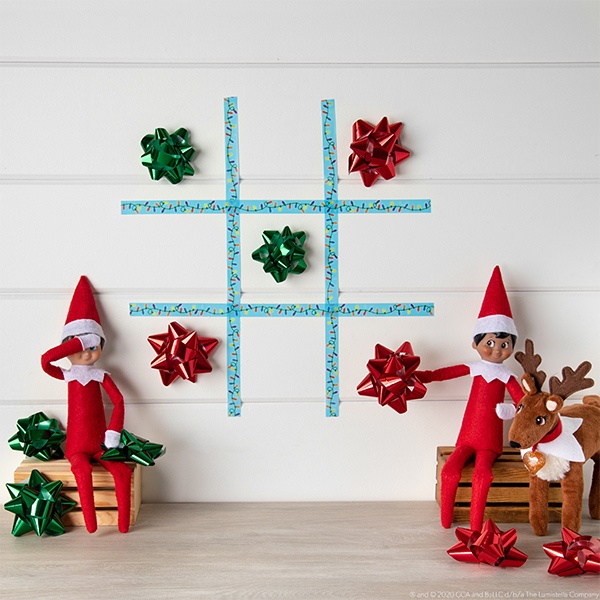 Have you ever played a game of tic-tac-toe Christmas style? With this holiday-inspired set up by your Scout Elf, now you can! Who will win?
Materials:
Washi tape
Two different colored gift bows
Tape
Instructions:
First, your elf will use washi tape to create a tic-tac-toe board.
Then, they will choose one colored gift bow and tape it to a spot on the board.
When you find them, it'll be your turn!
---
Zipping through December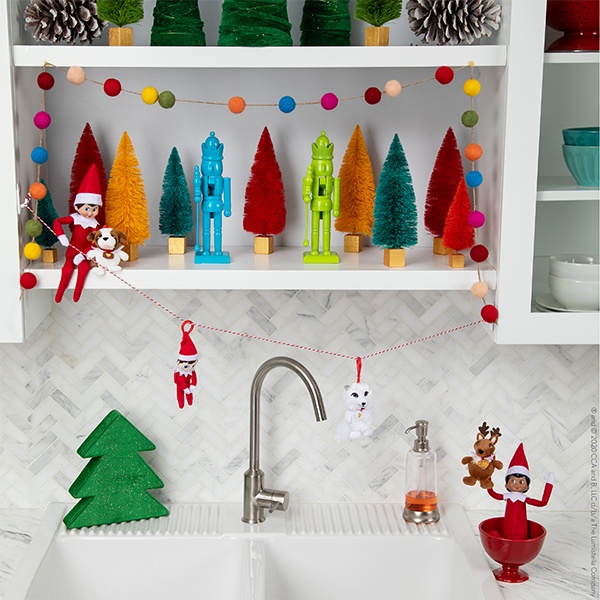 December 25th can't come fast enough! Your Scout Elf will set up a mini zipline adventure to zip toward Christmas!
Materials:
Plushee Pals® Mini Clip-ons
String
Two self-adhesive hooks
Instructions:
Your Scout Elf will tie string to two self-adhesive hooks.
Then, they will clip on the mini Plushee Pals® for a fun ride across a zipline!
---
Candy Cane Garden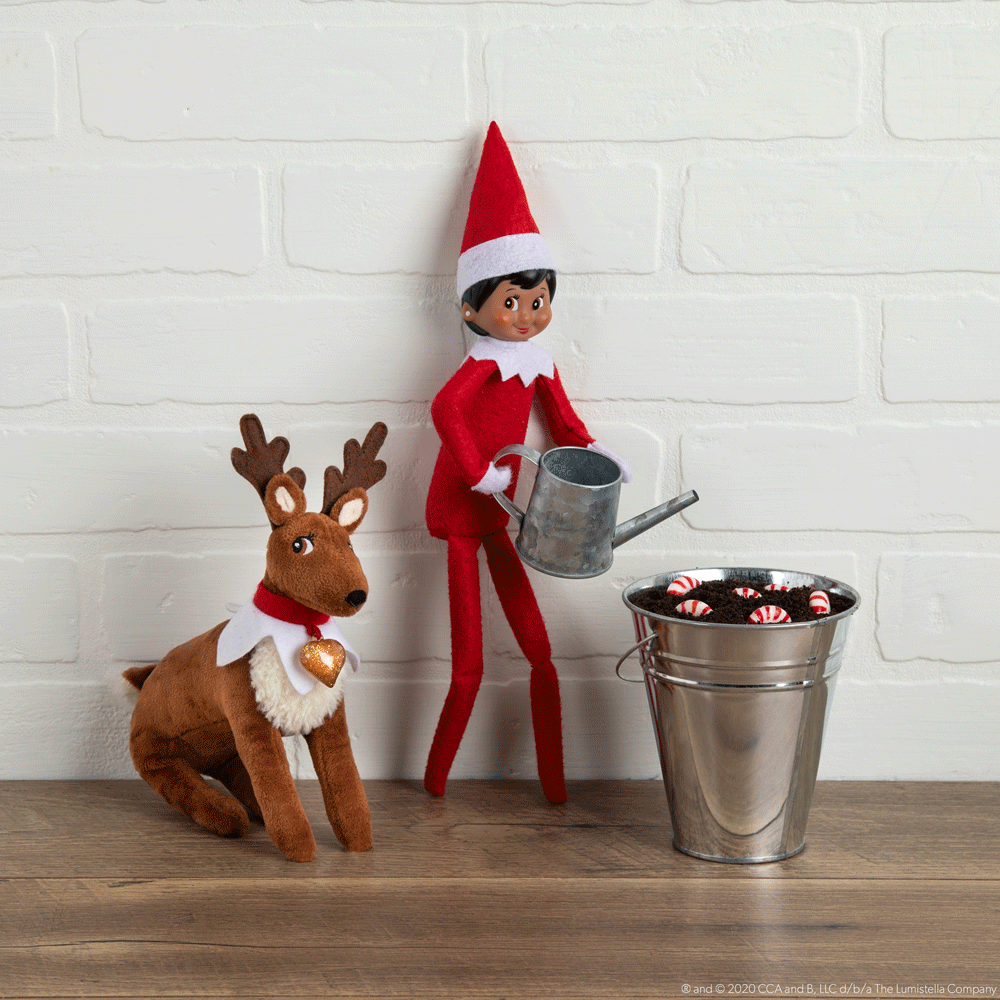 Your Scout Elf has a green "Christmas" thumb. With a little watering and patience, they will grow full-size candy canes!
Materials:
Soft peppermint candies
Mini and full-sized candy canes
Small bucket or cup
Crushed chocolate cookies
Mini watering tin
Instructions:
Your Scout Elf will tend to a candy cane garden. First, they will plant soft peppermint candies in crushed chocolate cookies (dirt) and water them with a mini watering tin.
Soon, the soft peppermint candies will grow into mini candy canes before finally reaching full-sized candy canes!
---
The Star of the Show…Elf Joe!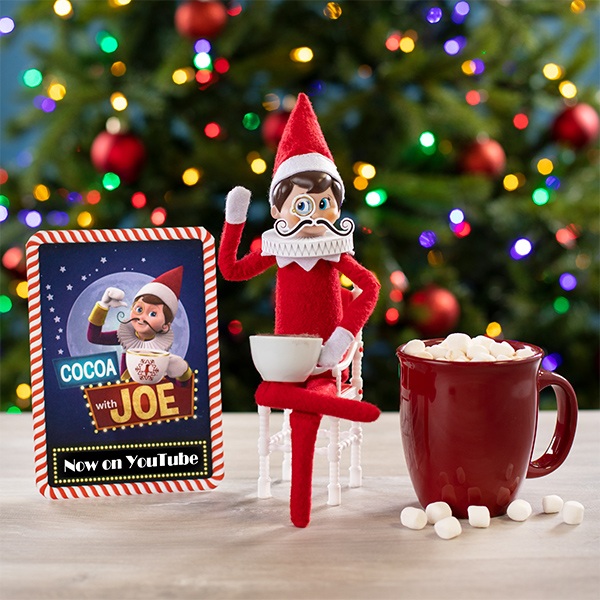 Scout Elf Joe is the North Pole's greatest #Elfluencer and dare we say the most popular elf at the North Pole! He has quite the fanbase, including your Scout Elf! They'll set up a poster and don a matching monocle and mustache to get ready for showtime.
Materials:
Color printer
Card stock/paper
Scissors
Tape
Miniature or regular-sized cup of cocoa
Instructions:
Your elf will print and cut out the printable.
They will set up the Cocoa with Joe poster.
Then, they will grab a mug of cocoa.
Finally, they will don their matching monocle and mustache while tuning into the Cocoa with Joe show.
Is your style quick and fast? Find additional easy elf ideas on the blog!
Before you or your elf get to work recreating any of these inspirational photos, be sure to read these safety warnings. Santa wants to make sure everyone stays safe!