Scout Elves love spirited décor—especially snow globes, which can capture the snowy wonder of the holiday season! However, thanks to a crafty DIY tutorial from the elves, you can now create these decorations with figurines, letters or other miniature items for year-round delight. Follow a few easy steps to create your own themed snow globes. Add fun decorations for a simple twist on a popular Christmas knickknack turned summertime craft!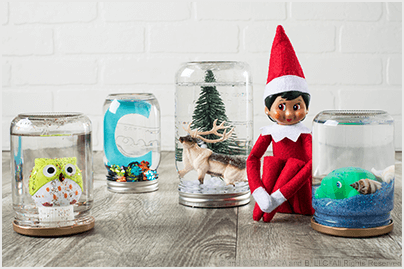 You'll Need:
Glass jar
Décor (ideas below)
Glycerin (3–5 drops)
Glitter, mini pom-poms or other decorative garnish (1–2 tablespoons)
Water
Hot glue gun
Instructions:
START

by choosing a theme for your snow globe. The Scout Elves made a snowy scene globe, one with a letter in it, an under the sea globe and one with a small owl figurine. Helpful hint: Be sure to use a figurine or centerpiece that is waterproof!

ATTACH

the base of your object to the lid of the jar using a hot glue gun. Helpful hint: if your jar has a thick top, glue the object to a piece of foam board or plastic to lift it higher off the base.

FILL

the jar with 1–2 tablespoons of glitter, mini pom-poms or other decorative garnish. Helpful hint: Weighty items like mini pom-poms need to be saturated with water to sink to the bottom of your snow globe.

ADD

water, remembering that once the lid is placed on the jar the water will be slightly displaced.

ADD

3-5 drops of glycerin to the water, which will help the glitter float through the water without immediately dropping back to the bottom of the jar.

SCREW

the lid onto the jar as tightly as possible.

SHAKE

the globe, and watch your mini wonderland in action!
Pick out other fun projects your family can create from Scout Elf Craft Corner!
Please remember that when attempting the craft included in this post children should always be supervised by an adult. When using crafting supplies or products, always read manufacturer's instructions and warnings.