Scout Elves build up a big appetite while slinging snowballs at the North Pole! When they slip inside for something sweet to eat, they bring the fun with them thanks this recipe for a tasty treat! Shaped just like small spheres and covered in sugar as powdery as North Pole snow, these winter wonderland cookies are as fun to make as they are to eat.
You'll Need: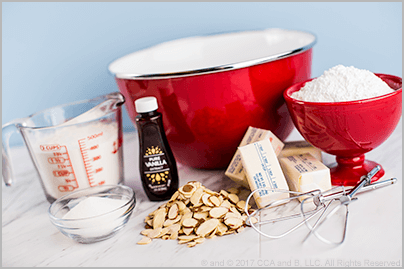 2 cups flour
2 cups chopped almonds
¼ cup sugar
1 cup softened butter
2 tsp. vanilla extract
2 tbsp. water
Powdered sugar
Bowl
Mixer
Cookie sheet
Parchment paper
Instructions:
Makes approximately 15-20 cookies
COMBINE

all ingredients, except powdered sugar, in a large bowl, and mix until smooth.

REFRIGERATEE

dough for 30 minutes, and preheat the oven to 325 degrees.

SHAPE

dough into 1 inch balls, and place them on a parchment paper-lined cookie sheet.

BAKE

18–20 minutes at 325 degrees or until lightly browned on bottom.

LET

the cookies cool for 3–5 minutes.
While the cookies are still warm,

ROLL

them in powdered sugar. Set aside. Helpful hint: Roll them through the powdered sugar twice for an extra sweet outside!

ENJOY

your snowball cookies!
Looking for other delicious sweet treats? See what other yummy recipes are waiting in Mrs. Claus' Sweet Treats!
This recipe may contain ingredients that can cause allergic reactions in certain individuals. Before using our recipes, always check the ingredient list and food labels of all ingredients and be sure to seek advice from a qualified physician if needed.