This Valentine's Day, cuddle up close with loved ones and a delicious drink that will tickle your taste buds! The Scout Elves love this ice cream float with a Valentine's Day twist, and creating it is just as simple as putting together the garden-variety root beer version. Have your little ones participate and make their own floats for an elf-approved activity the whole family will enjoy!
You'll Need:
Sundae glass or other tall glass
Vanilla ice cream
Red or pink soda
Decorative straw
Whipped cream
Fruit garnish
Instructions:
SCOOP

vanilla ice cream into a sundae glass. Make sure not to fill the glass too full, lest your floats become floods when the soda is added!

POUR

raspberry, cherry or any pink- or red-colored soda of your choice over the ice cream to give your floats their handsome hue! Helpful hint: For richer-colored floats, use red or pink ice cream in combination with the colored soda.

GARNISH

with whipped cream and a decorative straw that has some Valentine's Day flair. Fresh fruits, like cherries and strawberries, are perfect float toppers, too.

BOTTOMS UP

…and happy Valentine's Day from all of us at the North Pole!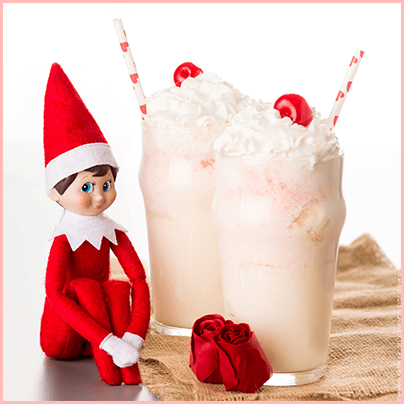 Whip up some delicious Valentine's Day cookies to pair with this float for the ultimate sweet treat combo!
This recipe may contain ingredients that can cause allergic reactions in certain individuals. Before using our recipes, always check the ingredient list and food labels of all ingredients and be sure to seek advice from a qualified physician if needed.