After playing all day in the North Pole snow, Scout Elves love warming up with a toasty beverage! When the elves are craving something other than cocoa, they reach for their fruity favorite—awesome apple cider with a delectable whipped cream and crushed peppermint candy topping. Simmering in cinnamon sticks and spices, this sweet drink evokes the warmth and comfort of cuddling up by the fire on a cool night.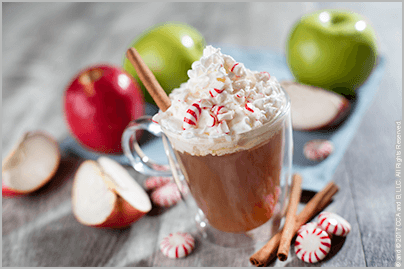 You'll Need:
1 gallon of apple cider

2 teaspoons of allspice

2 teaspoons of cloves

Cheesecloth

Cinnamon sticks (two for the cider and 10 for garnish)

Whipped cream

Crushed peppermint candies
Instructions:
Makes approximately 10 12-ounce cups of apple cider.
START

by picking out your perfect spices and wrapping them together in cheesecloth so they can be steeped in the cider. For this recipe, the Scout Elves used 2 teaspoons each of allspice and cloves.

In a saucepan,

HEAT

the cider, spices and two cinnamon sticks on medium heat for 5–10 minutes or until the cider reaches the desired temperature.

REMOVE

the cheesecloth with the spices, and pour the cider into mugs.

TOP

with whipped cream, crushed peppermint candies and a cinnamon stick.
Looking for October recipes that are so good it's scary? Look no more! The Scout Elves found a frighteningly delicious recipe for monster cookies!
This recipe may contain ingredients that can cause allergic reactions in certain individuals. Before using our recipes, always check the ingredient list and food labels of all ingredients and be sure to seek advice from a qualified physician if needed.