Halloween is a time for fun costumes and one of the Scout Elves' favorite North Pole snacks: candy! Celebrate the holiday known for tricks and sweet treats with this bewitching Halloween recipe for a bubbling brew that looks—and tastes—just like candy corn. All your special boys and "ghouls" are sure to enjoy this spellbinding pre-trick-or-treat potion!
You'll Need: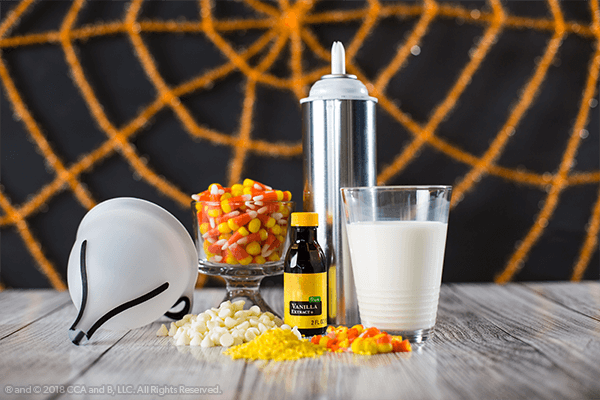 Funnel
4 cups milk
1 teaspoon vanilla extract
½ cup white chocolate chips
½ cup candy corn
Whipped cream (canned or freshly whipped)
Yellow sprinkles
Handful of chopped candy corn
Instructions:
STIR

milk, vanilla extract, white chocolate chips and candy corn together in a saucepan over medium-low heat. Stir continuously until the chocolate chips and candy corn have melted and the whole mixture has come to a simmer, then remove from heat. This should take about 5-10 minutes. Helpful hint: To avoid a burned candy corn flavor, make sure the mixture doesn't boil!

SERVE

the hot cocoa immediately, using a funnel to carefully pour the bubbly brew into mugs—or any ghoulish goblet of your choice!

DECORATE

the orange-colored cocoa with whipped cream, adding yellow sprinkles so that the whole concoction matches the three colors of candy corn. Additionally, top your creation with chopped candy corn that your little hobgoblins can chomp on. You could also use yummy gummy worms or other Halloween-themed toppings to make this wickedly delicious treat a little spookier!

ENJOY

your yummy candy corn cocoa before, during or even after all your trick-or-treating festivities!
After you create this yummy drink, spend time crafting a spooky gingerbread house!
This recipe may contain ingredients that can cause allergic reactions in certain individuals. Before using our recipes, always check the ingredient list and food labels of all ingredients and be sure to seek advice from a qualified physician if needed.