Giving an apple to the teacher is a great way to show appreciation! But children don't have to honor their favorite mentor with a garden-variety Red Delicious, Fuji or Gala because the Scout Elves have come up with a fun new recipe to show teachers they're valued! Help your kids bake up these delicious apple-infused cupcakes from the North Pole to put a unique spin on the age-old tradition of giving an apple to the teacher. They're sure to make the grade!
You'll Need: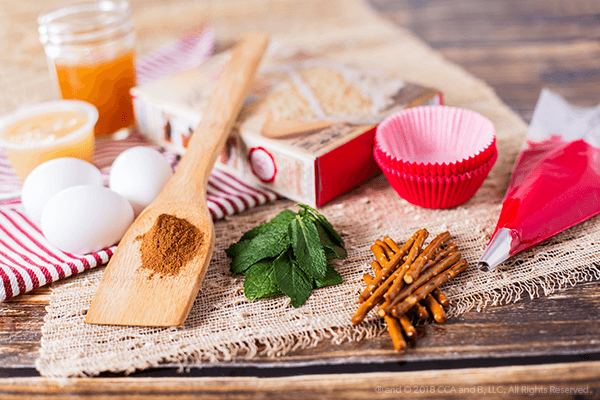 2 muffin tins (12 cups each)
Piping bag
1 box of vanilla cake mix
1/2 teaspoon ground cinnamon
3/4 cup apple juice
1/3 cup apple sauce
3 eggs
Red icing
24 red baking cups
12 thin pretzel sticks, broken in half
24 mint leaves
Instructions:
HEAT

your oven to the temperature noted on the cake mix package. As the oven is heating, line your cupcake tin with red baking cups.
In a large bowl,

BEAT

together the box of cake mix, eggs, apple sauce, apple juice and cinnamon. Helpful hint: Be sure to follow these instructions and not the ones on your cake mix box! The apple sauce is a substitute for the cooking oil, and the apple juice takes the place of the water in the traditional cake mix recipe.

Once your batter is free of lumps,

DIVIDE

it evenly into baking cups.

BAKE

your cupcakes for 18-22 minutes or until a toothpick inserted into the center of a cupcake comes out clean.
If your red frosting didn't already come in a tube,

PLACE

the frosting into the piping bag.

PIPE

the frosting onto your cooled cupcakes using a circular motion until the cupcakes look like plump little apples.

PLACE

half of a thin pretzel stick in the middle of the frosting as the apple "stem," and place a mint leaf next to it. Be sure to enjoy a few of your scrumptious sweets before your little one delivers them to his or her favorite teacher!
Don't just surpise the teacher! Find fun ways to surpise kids when sending them back to school! Check out these back to school items courtesy of the Scout Elves!
This recipe may contain ingredients that can cause allergic reactions in certain individuals. Before using our recipes, always check the ingredient list and food labels of all ingredients and be sure to seek advice from a qualified physician if needed.