A fresh face of spring is popping up to chirp its "Hello" just in time for Easter! Baby chicks are as iconic to Easter as Scout Elves are to Christmas, and these little birdies made from cotton balls are the perfect addition to any Easter celebration! The Scout Elves love setting just the right mood for their North Pole parties, so they created this unique Easter craft that serves as a perfect dinner table centerpiece. Get to work crafting your own fine-feathered friends with the help of your little ones for a high-flying display!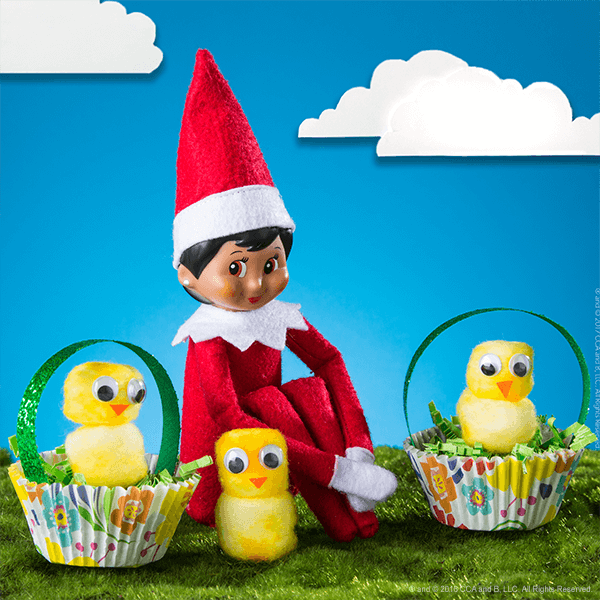 You'll Need:
Cotton balls

Yellow food coloring

Water

Googly eyes

Orange construction paper

Glue

Cupcake liner

Paper

Gift bag filling
Instructions:
FILL

a bowl with water, and squirt in several drops of yellow food coloring until the water reaches the desired color.

ROLL

the cotton balls through the water to turn the cotton balls yellow. Helpful hint: Do not fully submerge the cotton balls in the water to save drying time.

LET

the cotton balls dry overnight. Helpful hint: If you're in a rush, use yellow hairspray to change the color of the cotton balls.
Once dry,

TAKE

take two cotton balls and glue them together to give the chick a head and a body.
On the top cotton ball,

GLUE

on two googly eyes and a small triangle of orange paper for a beak.
To create the basket,

FILL

a cupcake liner with gift bag filling, and attach a thin paper handle to it. Use glue to secure the handle to opposite sides of the cupcake liner.

SET

the chicks inside their basket, and display your high-flying creation!
Looking for more Easter ideas? Check out the Scout Elves' recipe for scrumptious Frosted Bunny Bites!
Please remember that when attempting the craft included in this blog post, children should always be supervised by an adult. When using crafting supplies or products, always read manufacturer's instructions and warnings.