Easter is quickly approaching, and it's time to impress one of the season's most anticipated visitors—and your kids—with a taste bud–pleasing seasonal snack created by the sweet-loving Scout Elves. Mrs. Claus herself has approved these Frosted Bunny Bites, which include a snow white chocolate topping that's sure to please the Easter Bunny when he stops by to fill your little ones' baskets. Read on to find out how to make this yummy treat, which will be sure to delight!
You'll Need: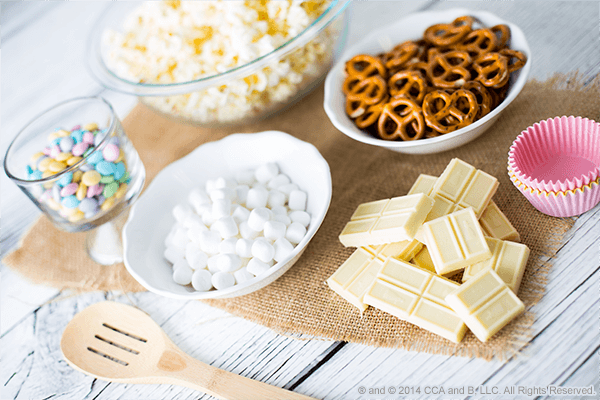 1 cup mini marshmallows
1 bag microwave popcorn, popped (lightly salted)
1 cup mini pretzels (or pretzel sticks broken in half)
1 cup pastel-colored coated candies
Two 8 ounce bars of white melting chocolate
Cookie sheet
Easter-themed or pastel-colored baking cups
Instructions:
MIX

marshmallows, popcorn and pretzels together in a large bowl.

MELT

the white chocolate in the microwave according to the package instructions.

DRIZZLE

the chocolate over your popcorn, pretzel and marshmallow mixture. Stir the mixture with a spatula to coat all of the morsels in the chocolate-y goodness!

Once thoroughly coated,

SPREAD

the mixture out on a large cookie sheet.

While the chocolate is still warm,

SPRINKLE

the coated candies on top of the mixture, and press them down lightly, making sure they stick to the chocolate.

PLACE

the cookie sheet in the fridge for about 30 minutes to allow the chocolate to set.

REMOVE

it from the fridge, and break the mix into bite-sized pieces.

PLACE

the Frosted Bunny Bites in festive baking cups to create personal servings.

NIBBLE

away on your confectionary creations, and don't forget to leave some for the Easter Bunny, too!
Looking for a delicious Easter recipe? Learn how to make your own easy Easter bunny cupcakes!
This recipe may contain ingredients that can cause allergic reactions in certain individuals. Before using our recipes, always check the ingredient list and food labels of all ingredients and be sure to seek advice from a qualified physician if needed.