Get the recipe for this tasty Christmas Crunch Trail Mix just in time for Christmas! Chow down on this delightful mix of pretzels, chocolate covered cereal, chocolate candies, popcorn and more. Check out Mrs. Claus and the Scout Elves' recipe below!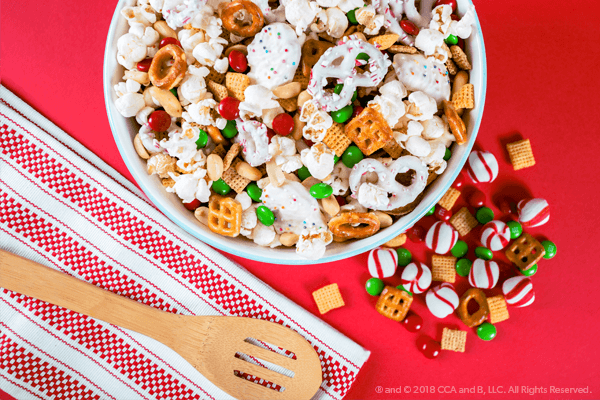 You'll Need:
Pretzels
Rice-based cereal
White baking chocolate
Red and green sprinkles
Popcorn
Candy coated chocolate candies
Peanuts
Instructions:
The main trick to this recipe is to follow your tastebuds! Start with the ingredients above, and determine which, if any, you'd like to cover in chocolate. Helpful hint: For their recipe, the elves covered pretzels in white chocolate.
Next, melt the baking chocolate according to the package instructions. Once hot, drizzle it over your selected ingredients.
For a festive touch, add red and green sprinkles to the chocolate covered ingredients as the chocolate cools.
After the chocolate has set, add your coated items to a mix of peanuts, candies, rice-based cereals and popcorn, as well as any other ingredients that strike your fancy!
Put out a big bowl of this delightful Christmas Trail Mix at your next holiday party to impress guests and please tummies!
Looking for more delicious treats? Check out what else is cooking in Mrs. Claus' Sweet Treats!
This recipe may contain ingredients that can cause allergic reactions in certain individuals. Before using our recipes, always check the ingredient list and food labels of all ingredients and be sure to seek advice from a qualified physician if needed.