Celebrate the warm summer months with one of the Scout Elves go-to recipes: snow cones. At the North Pole, elves make this delectable treat by scooping up a cup of freshly fallen North Pole snow and topping it with their favorite flavored syrup. Now, you can achieve the same tasty shaved ice treat with a blender, ice and flavored drink mix! You'll be cooling off this summer with delicious snow cones in no time!
You'll Need: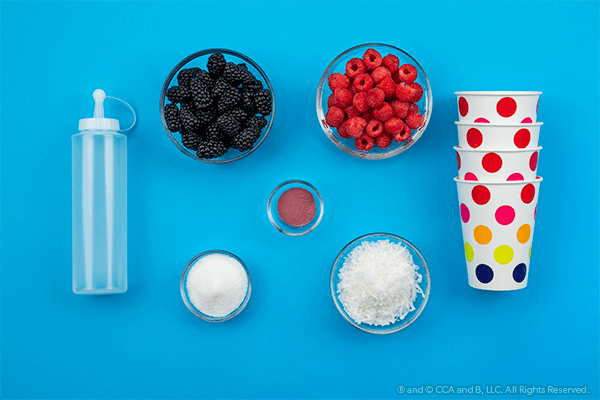 Shaved ice maker or blender
Ice
Empty condiment bottle for storing drink mix
1 packet powdered drink mix (Helpful hint: Use sports drink mix or fruit flavored mix)
1 cup sugar
Cold water
Pitcher
Spoon
Food coloring (optional)
Cones or bowls for serving
Optional toppings: Condensed milk, marshmallow cream, strawberry syrup, coconut shavings, fresh fruit
Instructions:
Empty packet of powdered drink mix into a pitcher.
Add 1 cup sugar. Then, fill the pitcher with cold water making up to 2 quarts of liquid.
Stir until the drink mix and sugar have completely dissolved. Helpful hint: The Scout Elves repeated these steps four times to make four different colors of syrup. You can also follow these steps as many times as you'd like in order to create ample flavors to suit your taste buds!
Pour the mixture into an empty condiment bottle. Helpful hint: If you make multiple flavors, store them in multiple bottles, so you'll have plenty of options to choose from.
Place ice in a blender to crush. You could also use a shaved ice maker if you have one.
Scoop "snow" into a cone or bowl, and pour the syrup over top until it is well coated. Helpful hint: To make your liquid even brighter, add food coloring!

Get even more creative with your snow cones by adding some of the elves' favorite toppings! You could pour condensed milk over the top of your snow cone for a sweet creamy flavor. Add an ounce or two per cup of shaved ice. You could also add marshmallow cream, strawberry syrup, coconut shavings or even fresh fruit like blackberries and raspberries.

Cool off with your delicious sweet treat!
Stay busy this summer with many more refreshing recipes and fun family activities!
This recipe may contain ingredients that can cause allergic reactions in certain individuals. Before using our recipes, always check the ingredient list and food labels of all ingredients and be sure to seek advice from a qualified physician if needed.