Nothing says summer like a big scoop of ice cream, and the Scout Elves want kids to enjoy theirs on Scout Elves' signature chocolate-dipped cones! Topped with festive fillings that remind the Scout Elves of the colors and sights of the North Pole, the Frosty Fun Cone, Festive Sprinkles Cone and Snowcapped Cone are perfect for holding a big scoop of vanilla, chocolate or rocky road ice cream!
You'll Need: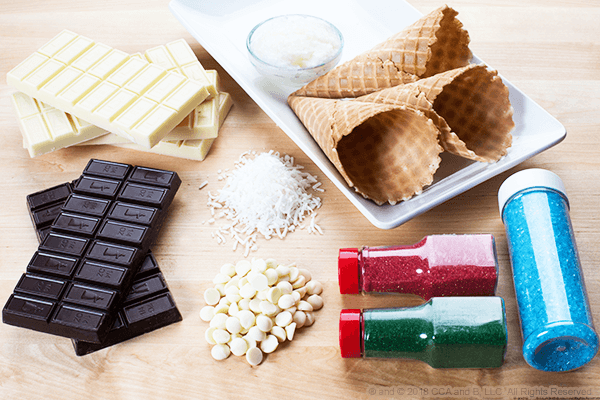 2 milk chocolate baking bars (4 oz. each)
4 white chocolate baking bars (4 oz. each)
6 tablespoons coconut oil
18 ice cream cones (any cones will do)
Red and green sprinkles
Shredded coconut
Blue sprinkles
Mini white chocolate chips
Instructions:
Makes approximately 18 ice cream cones
MELT

the milk chocolate baking bars according to the package instructions. For every 8 oz. of chocolate, mix in 2 tablespoons of coconut oil to give the chocolate a smoother consistency.

One by one,

ROLL

the upper edge of each ice cream cone through the chocolate. To create the Frosty Fun Cone and Festive Sprinkles Cone, use white chocolate. For the Snowcapped Cone, use milk chocolate. Helpful hint: For even chocolatier cones, drip some of the chocolate along the inside edge of the cones or into the bottom of the cones!

Immediately

ROLL

the cone through the toppings of your choosing.

Frosty Fun Cone:

Roll the chocolate-dipped cone though the blue sprinkles.

Festive Sprinkles Cone:

Roll the chocolate-dipped cone through a mixture of red and green sprinkles.

Snowcapped Cone:

Roll the chocolate-dipped cone through shredded coconut and mini white chocolate chips.

ENJOY

these cool cones!
Looking for more tasty summertime treats? Browse these recipes!
This recipe may contain ingredients that can cause allergic reactions in certain individuals. Before using our recipes, always check the ingredient list and food labels of all ingredients and be sure to seek advice from a qualified physician if needed.