Deliveries to Santa's North Pole Mail Room Grotto come in all shapes and sizes, and the messages inside are just as unique! From adorable art masterpieces to kind—or even funny—wishes, Saint Nick reads every request imaginable as Christmas nears. The Scout Elves who help Santa sort his mail in the grotto have pulled together some of their favorite messages to show you the cutest concepts you might want to include in your note to Santa this year.
1. Priceless Works of Art
No letter to Santa is complete without a colorful drawing, and aspiring Picassos send Santa the finest finger paintings, watercolors and carefully crafted color pencil works to add to his ever-growing collection. Santa considers each one a masterpiece and often puts them on display in his mail room grotto!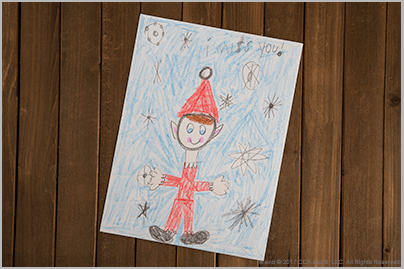 (Fun fact: About 60% of letters that arrive at the North Pole include a colorful drawing!)
---
2. Cheers for Santa
Even for a guy with all the magic in the world, Santa's not averse to hearing kind words from time-to-time! In addition to wish lists, a big chunk of mail to the North Pole includes messages giving a nod to just how great Santa's fans think he is.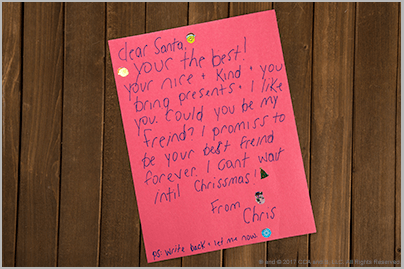 (dear Santa, your the best! Your nice + kind + you bring presents + I like you. Could you be my freind? I promiss to be your best freind forever. I can't wait intil Chrissmas! From Chris. P.S. Write back + let me now.)
---
3. Information Overload
Some kids have a lot to tell Santa. From their Scout Elf's middle name, right down to the color socks they're wearing that day, no small bit of intel is spared in some of the adorably detailed descriptions sent to Santa.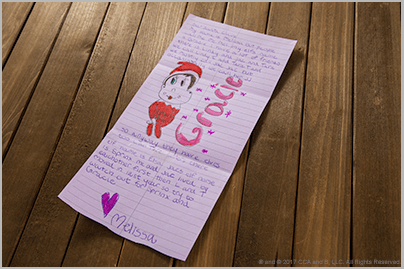 (Dear Santa Claus, My name is Melissa but people call me Mel. My elfs name is Gracie. I have a lot of friends there is Lindy and Jac and Tara. We call Lindy L and Tara T and we mostly call Jac Jac but occasionally we call her JJ. So anyway they have elves too. L and T are sisters there elf name is Elsa. Jacs elf name is Sprinx. Me and Jac lived by each other first then L and T moved in last year so try to watch out for Sprinx and Gracie. Love Melissa)
---
4. A Little Help Please
Some letters prove there truly is no limit to what children believe their Scout Elf is capable of, like this letter from a child who hopes their elf will take over their duties as the family's chief cat caretaker.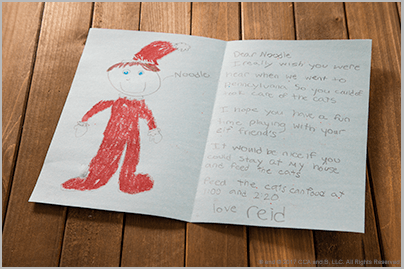 (Dear Noodle, I really wish you were hear when we went to Penncylvana so you could of took care of the cats. I hope you have a fun time playing with your elf friend's. It would be nice if you could stay at my house and feed the cats. Feed the cats can food at 1:00 and 2:20. Love Reid)
---
5. A Touch of Magic
All the magic stored at the North Pole is used for important duties, but that doesn't keep kids from asking if there's any way Santa could spare a little to help them be magical, too!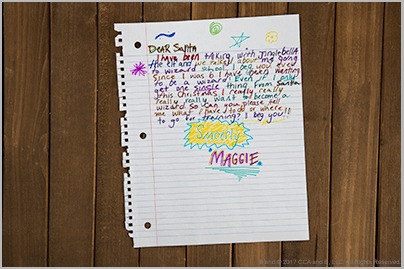 (Dear Santa, I have been talking with Jinglebella the elf and we talked about me going to wizard school. I beg you. Ever since I was 6 I have been wanting to be a wizard. Even if I only get one single thing from Santa this Christmas, I really really really really want to become a wizard. So can you please tell me what I have to do or where to go for training? I beg you! Sincerely, Maggie)
---
6. Wishes for Others
Some kids give real meaning to the phrase "asking for a friend." They're the ones who write to Santa requesting a special wish or gift just for a loved one. Deep in the hearts of each of these children beats the spirit of Christmas, loud and proud!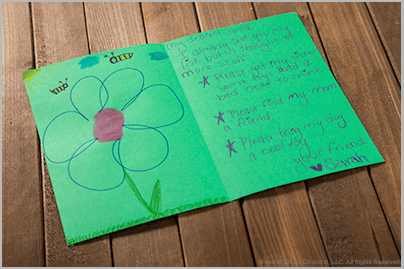 (My dearest Santa, I already sent you my list, but I thought of more stuff…Please get my sister some toys and a bed next to mine. Please find my mom a friend. Please bring my dog a cool toy. Your Friend, Sarah)
---
7. To The Point Wishes
When you know what you want, there's no need to beat around the bush. Some kids waste no time getting straight to the point in their letters to Santa, like this child who has a very specific wish.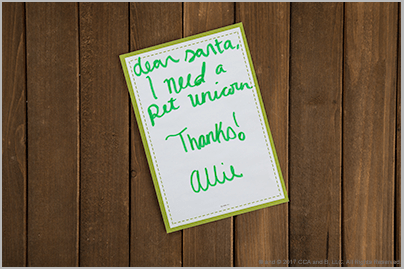 (Dear Santa, I need a pet unicorn. Thanks! Allie)
---
8. Messages About Believing
The Christmas season is all about believing in magic, faith, hope and love, and some kids want Santa to know that they support his Christmas mission no matter what! These are the letters that make all the Scout Elves "awww" when they read them.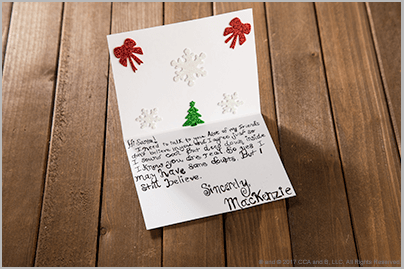 (Hi Santa! I need to talk to you. Alot of my friends don't believe in you and I agree just so I sound cool. But deep down inside I know you are real. So yes, I may have some doubts, but I still believe. Sincerely, Mackenzie)
---
9. Much Needed Advice
It's not all about asking to receive; some kids have their own advice and message to help Santa and the Scout Elves this Christmas.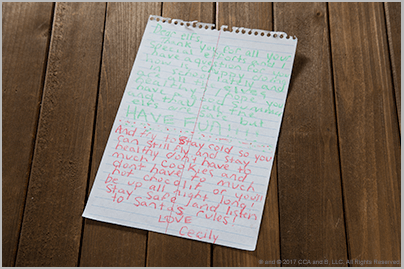 (Dear elfs, Thank you for all your special efforts and I have a question for you how is Chippy doing in school lately and are all the elves health? I hope you have a good summer and that all the elfs are safe but HAVE FUN! And try to stay cold so you can still fly and stay healthy. Don't have to much cookies and don't have to much hot chocolit or you'll be up all night long! Stay safe and listen to Santa's rules! Love, Cecily)
---
10. Christmas Contracts
To leave no doubts that their wishes will come true, some children ask for written proof!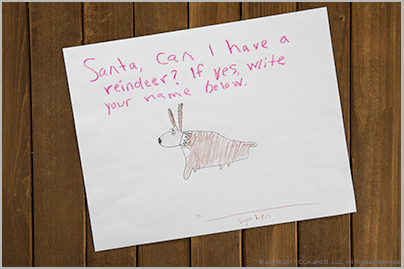 (Santa, can I have a reindeer? If yes, write your name below. X___(sign here)____)
Do your kids want to be sure that Santa gets their letters? Check out Scout Elf Express Delivers Letters to Santa®, a fun family activity that shrinks letters to elf size for quick and trusted delivery to the North Pole by your Scout Elf!