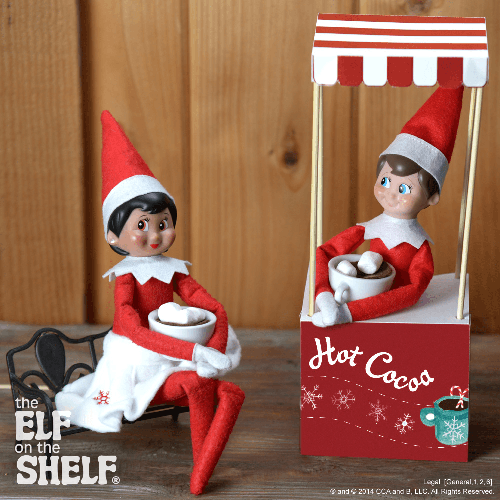 Materials:
Hot cocoa stand template
Cardstock
Tape
Scissors
Skewers/Chopsticks
Styrofoam
Instructions:
Hot cocoa, get your hot cocoa! Your enterprising Scout Elf will capitalize on the cool wintry weather by opening his or her own hot chocolate stand, made by printing out The Elf on the Shelf® hot cocoa stand template on cardstock and cutting it out. Also cut out the stand's awning and set aside.
Using scissors, your Scout Elf will cut out the large hole on the top half of the stand and punch holes where the four smaller holes are.
Your Scout Elf will fold the stand horizontally, separating the red bottom of the stand from the upper half that contains the holes.
By folding along the dotted lines on the stand's base, your Scout Elf creates flaps that will hold the stand's base up. When they're done folding, your Scout Elf will position the stand over a small piece of styrofoam.
For extra support, your Scout Elf will place skewers or chopsticks in the four smaller holes and pierce them into the styrofoam before climbing into the hole in the middle of the stand.
Your Scout Elf will top off the mobile business with the awning they already cut out.