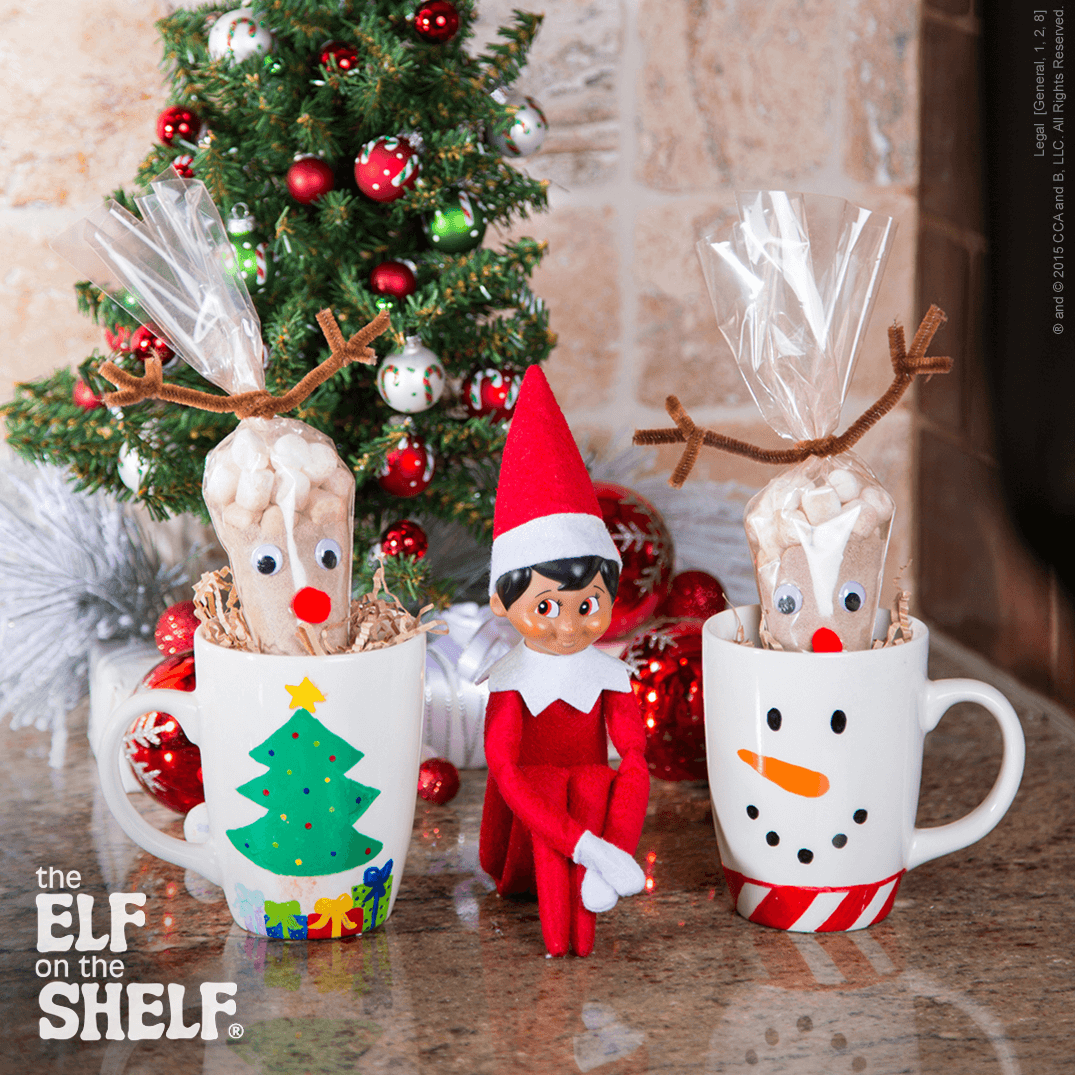 Materials:
Cone-shaped bags
Hot cocoa mix
Mini marshmallows
Googly eyes
Red pom-poms
Rubber bands
Brown pipe cleaners
White heat-safe mugs
Oil-based permanent paint pens
Glue
Instructions:
Your Scout Elf wants you to enjoy a fine wintertime drink; that's why your elf will leave all the fine fixings for hot cocoa on the kitchen counter! To create the festive mugs, your elf will:
Use paint pens to draw fun faces and designs on mugs for each of your family members.
Put the mugs in the oven and turn it on to 350 degrees (your Scout Elf makes sure not to preheat the oven!)
Bake the mugs for 30 minutes and then turn the oven off, leaving the mugs inside to cool for a couple of hours.
Start on the hot cocoa cones as the mugs are cooling.
Fill each bag about halfway with hot cocoa mix, and top it off with a handful of mini marshmallows.
Close the bag with a rubber band, and wrap one long brown pipe cleaner around the rubber band, letting the pipe cleaner stick out horizontally.
Cut one brown pipe cleaner to create two, inch-long pieces of pipe cleaner to wrap around the ends of each long pipe cleaner, creating antlers.
Glue googly eyes and pom-poms to the front of each hot cocoa cone, so that they look like reindeer.
Sit the mugs on the counter and put one hot cocoa cone in each of them and wait for you to find them!