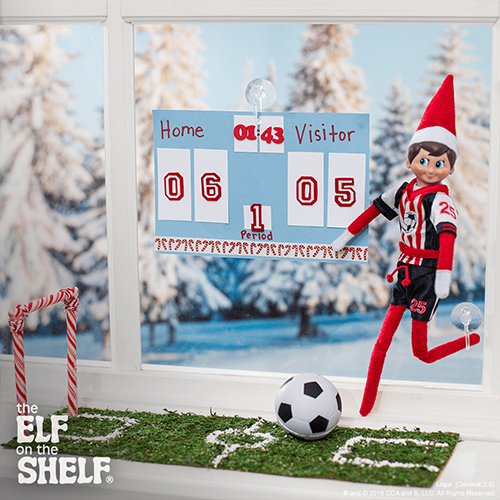 Materials:
Paper
Foam number stickers
Markers
Hole puncher
Fake grass (available at most craft stores)
Powdered sugar
Straw
Peppermint sticks
Hot glue gun
Foam soccer ball
Going for a Goal printable
Holiday Harness, Glacier Grip and Candy Cane Cable from Scout Elves at Play® kit
Instructions:
To go for a goal, your Scout Elf will set up a soccer field by cutting out a piece of fake grass approximately 11 inches by 6 inches.
While wearing his or her Spirited Soccer Set, your elf will use a straw to scoop up powdered sugar and sprinkle it on top of the turf to create markings on the field.
Using Candy Cane Cable, your elf will tie together three peppermint sticks to create a goal.
To make sure the goal stays in place, the elf will use hot glue to secure the goal to the turf.
Using paper, markers and foam number stickers, your Scout Elf will create a scoreboard and make a hole in the top to hang it from a Glacier Grip.
Your elf will get in position behind a foam soccer ball using the Holiday Harness and the other Glacier Grip and shoot to score! (Helpful hint: the Holiday Harness and Glacier Grips work best on smooth surfaces, like mirrors or tile!)
Note: Alternatively, your elf can download the printable that contains a soccer field, ball and scoreboard.