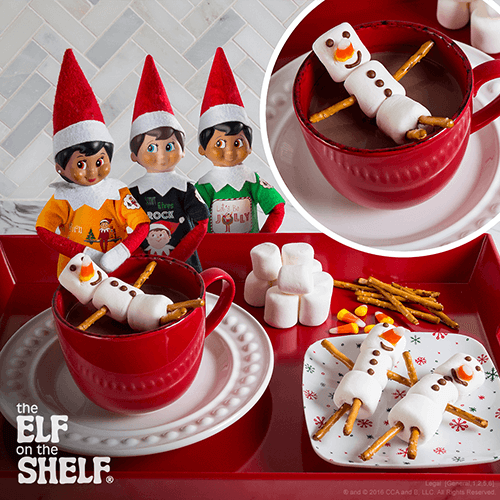 Materials:
Marshmallows
Pretzel Sticks
Candy Corn
Chocolate Icing
Toothpicks
Precision Knife
Instructions:
A cup of hot cocoa just isn't complete without some marshmallows on top! To make your next cup of hot chocolate extra special, your Scout Elf will create marshmallow snowmen by using toothpicks to connect three marshmallows.
To decorate the hot cocoa snowman, your Scout Elf will create pretzel stick arms and legs and use chocolate icing to create buttons and a face.
So that the candy corn nose stays in place, your Scout Elf will use a precision knife to cut a small hole in the middle of the snowman's face and stick the candy corn nose into it.
Your Scout Elf will put on one of their Born to Scout Tees and leave the creations out for little ones to plop into a fresh cup of hot cocoa!