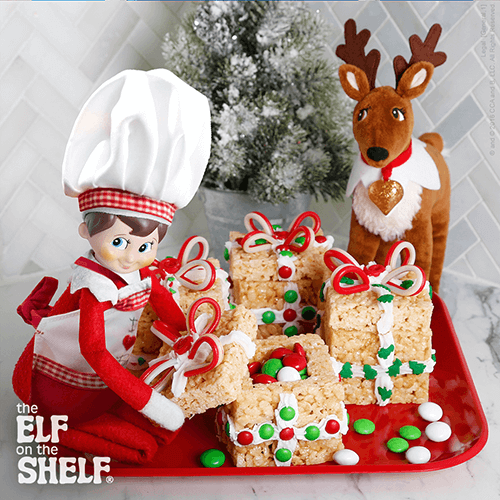 Materials:
Crisped rice cereal
Butter
Marshmallows
Wax paper
White icing
Chocolate-coated candies
Licorice
Sprinkles
Instructions:
What's better than a pretty present? One that's pretty AND tasty! Your Scout Elf will put on the Little Chef Cookie Kit hat and apron to make you a tasty treat of marshmallow squares according to the crisped rice cereal package instructions.
After mixing the marshmallow squares together, your Scout Elf will press the mixture onto a cookie sheet until it's approximately ¾ inches thick.
After the mixture cools, your elf will cut the entire batch into equal-sized squares (approximately 2 ½ inches by 2 ½ inches).
Your elf will use white icing to "glue" 5 squares together into a box shape with no top, and fill it with chocolate-coated candies.
The last marshmallow square will be placed on top of each box by your elf.
Finally, to make each box as pretty as a present, your elf will use icing, candies and sprinkles to create "ribbon." Then your elf will use licorice and icing to place a "bow" atop each present for you to find!